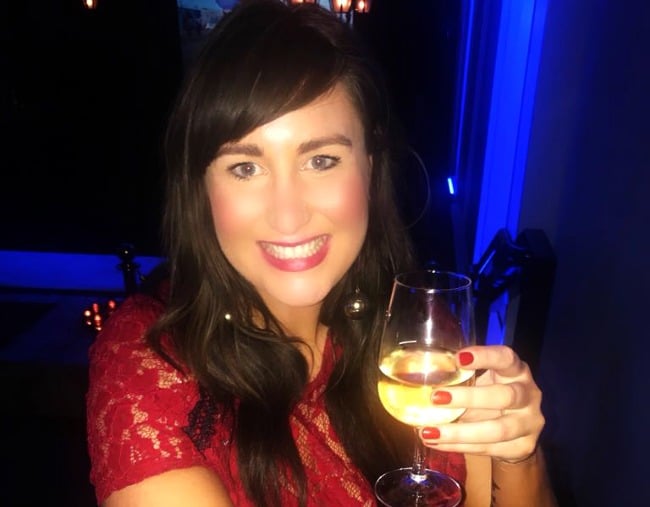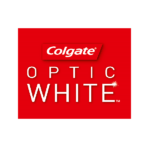 As soon as my fellow train passengers spy my bag during our morning commute to work, they start to give me strange looks and I can't say that I blame them.
You see, my role as Mamamia's Entertainment Editor has me living a double life.
Just take a moment to think about how Clark Kent had to file stories at the Daily Planet during the day and then don his cape and save Metropolis from evil by night and you'll start to have a good idea of what my work week looks like.
By day I am sitting curled up on the back-couches of our office with both a coffee and laptop balancing on my knees while furiously writing away. However, once the sun goes down it's time to switch gears and head off to fancy events where celebrities waltz down red carpets and I try not to get caught in the background of their Instagram snaps.
Which is where the bag comes in because this particular Cinderella has no Fairy Godmother on speed-dial and so is forced to DIY make-over at my desk each night and which means carting an assortment of make-up, clothes, hair curlers, toothpaste and extra jewellery to work with me each day.
So when it's time to close my computer and transition into 'event mode' I can quickly shake-off a long work day and not feel like a bridge troll should I accidentally bump into a Nicole Kidman or a Cate Blanchett while rushing down a red carpet.
(Don't laugh, I have actually bumped into each of those ladies before and they were both super nice about it).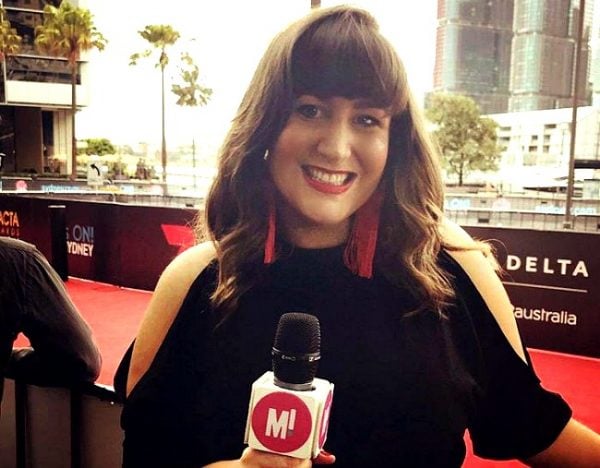 The downside of this dual life is that I rely on a dark liquid substance to give me the pep in my step I need to carry said bulging bag to work each day and stand in heels at parties all night. That substance is coffee.
Coffee is my one true love and my forever soulmate, but a year or so ago I noticed that my four to five cups a day habit was leaving my smile a little less pearly and shiny white than I'd like.
Which is not ideal when part of your job is to attend events, smile on red carpets and mix and mingle with fabulous people you're trying to impress. A tainted smile really takes a toll on the confidence needed to even walk into those rooms.
A few of the women I work with, the ones who had to hear my lamenting about my teeth at desk before I headed out each night, suggested I start using Colgate Optic White High Impact White toothpaste.
This Colgate product is in fact the only toothpaste with the whitening ingredient dentists actually use to remove surface and deeply set in stains on teeth, according to data on leading toothpastes sold in Australian Grocery and Pharmacy Retailers as of March 2018.
My teeth can sometimes be a touch sensitive with new products, but I found this Colgate paste to be gentle on my teeth and gums and it also features a lower strength hydrogen peroxide formula.
After using the Colgate Optic White High Impact White toothpaste twice a day for six weeks, I started to notice that my teeth were becoming visibly at least three to four shades whiter than they were before. 
The best part was the toothpaste was a very affordable and easy option for me when it came to fixing up my smile and it meant I didn't have to go through any lengthy and expensive whitening procedures. I used two tubes of toothpaste over about six weeks, which is under $20 all up.
So that's the toothpaste I started using at home before I set off for the day, it's also the one I would tuck inside my bulging bag that I lugged with me on the morning train and would use to give my teeth a quick brush and freshen up at the office before rushing off to a movie premiere.
As promised, I soon had a smile whiter and brighter than any coffee addict really deserves to have.
The real kick to my self confidence came around four months after Colgate Optic White had come into my life, during a trip home to see my family in Far North Queensland.
I was sitting with my mother in her living room, glasses of rose in our hands (and the air conditioner blasting) when she did a double-take towards my face and said, "Darling, your teeth are so white, what have you been using?"
I kid you not that my teeth were so much better than the last time I'd been to see her and this compliment is burnt into my mind for all eternity. After all, everyone knows that mothers will always lovingly tell you the truth no matter what, so if she said my teeth looked great than indeed they did.
There's a lot to worry about in life and a lot to keep track of if you are a busy person. At least now I know that having a trusty toothpaste on hand to protect my teeth from the trauma of coffee is one thing I can always count on. So next time those incredulous train passengers start staring at my overloaded handbag, I'll just flash them a smile.
Not to brag, but mine is now kind of brilliant.
Colgate® Optic White™ is Australia's #1 whitening brand. Colgate® Optic White™ High Impact White™ toothpaste delivers 4 shades visibly whiter teeth with twice daily brushing for 6 weeks. Its enamel safe fluoride formula fortifies enamel and is the ONLY toothpaste with the whitening ingredient dentists use*, to remove both surface and deeply set in stains. For all the benefits of a regular toothpaste plus a whiter, brighter, bolder smile, try High Impact White™ toothpaste today.
*Based on leading toothpastes sold in Australian Grocery and Pharmacy Retailers as of March 2018. Gentle lower strength hydrogen peroxide formula.
Colgate-Palmolive's intention is to comply with the Competition and Consumer Act at all times. RRP means recommended retail price. The RRPs referred to in this email are recommendations only. There is no obligation on the retailer to comply with the recommendation.