Ah, the humble beauty blender. Who would have thought that a tiny, colourful sponge could take the beauty world by storm?
These days, nearly everyone, from your favourite beauty blogger to your next door neighbour's cousin's niece, counts one among their make-up bag must-haves.
But there's one, teeny tiny problem: how the heck do you clean them?
Sure, you can buy an (expensive) ready-made cleaning solution. And we've all heard the horror stories about do-it-yourself methods that end with someone drinking a cup of dirty beauty blender water.
But one Twitter user may have just given us the easiest, simplest way to clean our beauty benders yet, and all it involves is a microwave.
Nineteen-year-old Julianna Asouzu, from London, heard the popular makeup tool could be cleaned by using a cup filled with soap and water, and heating in the microwave for one minute without a lid. So, she decided to try and out, and filmed the whole thing for social media.
LADIES I PUT MY BEAUTY BLENDERS IN THE MIRCOWAVE FOR 1 MINUTE AND LOOK WHAT HAPPENED ????????????????♥️♥️♥️ pic.twitter.com/iT0448Mctq

— #Yazz2UCL♥️ (@Jaycoko_) March 27, 2018
Spoiler alert: it totally worked.
"Guys, all my beauty blenders are clean! Before this they were all like brown," she can be heard saying in the clip.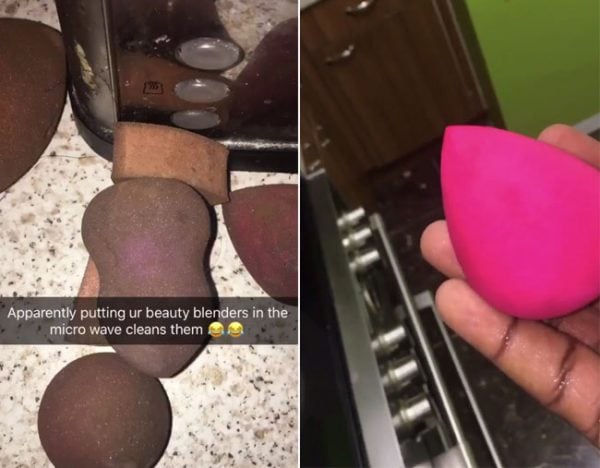 "I actually cannot believe this... it was literally brown and now it's back to its original colour."
She added that the beauty blender could be popped back in the microwave - with no liquid - for another minute to completely dry it after cleaning.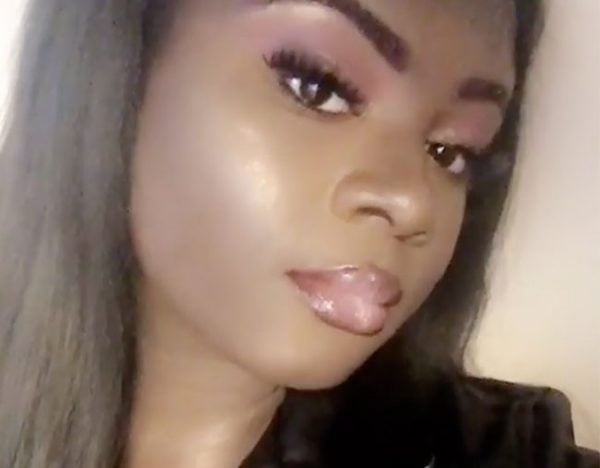 The video of her cleaning hack has now been viewed over two million times, with many beauty fans thanking Julianna for sharing the simple trick.
Sadly, some people failed to follow the full instructions, and tweeted the microwave had instead completely melted their blenders.
I'm deleting Twitter. I'm pissed. Wtf pic.twitter.com/0kzf6ic8Ml

— Victoriaaa (@VTT_torii) March 28, 2018
Some others revealed they had burned themselves after attempting to squeeze the water from their blenders straight after removing them from the microwave. Note: hot water is hot.
WHY NOBODY TOLD ME HOW HOT THE WATER IS AFTER YOU TAKE THE BEAUTY BLENDER OUT THE MICROWAVE. I just burnt my self so bad.

— ❥ (@LULSAVMAE) March 28, 2018
Others claimed the trick was the "best beauty hack" they'd ever stumbled upon.
This is one of the BEST beauty hacks. My life will not be the same. ???????? https://t.co/izXIALZu83

— ADWVA (@JessicaBentu) March 28, 2018
i forgot my beauty blender was initially yellow LMAO

— TW (@tyrawest__) March 28, 2018
OMG it actually worked , thanks girl ????

— CC (@_ccmonae) March 27, 2018
Yesterday, a hairdryer helping to dish up the perfect roast chicken. Today, a clean beauty beauty with the help of a trusty microwave.
What will we discover tomorrow?
LISTEN: There's a brand new NSFW skincare trend we need to talk about.
Want to win some skin care goodies? Like to have your opinion heard?
Take our short survey now for your chance to a win a skin care pack.