It's 2018 and nothing fits.
Buttons strain. Waistbands pinch. Seams leave indented broken lines, like little pricks of body art, pushed into my skin.
There are whole sections of my wardrobe that now dwell in 'nah, don't bother' territory.
There's never been more of me. I'm bulging, overspilling, gathering in groups.
This is not the result of a little too much Christmas ham. Of saying "yes" to too many refills of bubbles over the last week, of sneaking the kids' stocking-filler chocolates.
No, this is the result of 2017 – a year when I put pretty much everything ahead of my weight. I put writing ahead of it, work ahead of it, hanging out with my family in rare moments of peace ahead of it. I put wine on TFI Friday nights ahead of it.
LISTEN: Mia Freedman, Holly Wainwright, and Jessie Stephens check in on how they did during 2017, and come up with a word to guide their every move in 2018. Post continues after audio…

I stopped weighing myself. I stopped going to the gym. I stopped getting up at 5am to run.
I stopped resisting the kids' leftovers, other people's hot chips (oh no, I never ordered them for ME) and giant scoops of dip at barbecues.
I stopped fighting against the fact that here, in my mid-40s, dropping bread for a week or two is not going to shift anything. Everything is slower to change.
I'm not going to pretend those were good decisions. They weren't even decisions, really. But life is busy, things fall off your plate (or, you know, on to it) and it is what it is.
So, here I am in Summer. And let's be real. I'm fatter than I've ever been.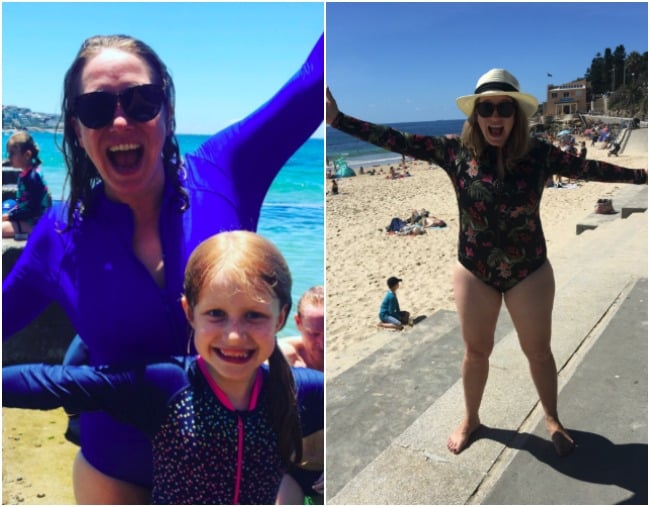 You might look at me, in the pictures that accompany this story, and swear under your breath. 'Call that fat? F*ck off.'
That's fine.