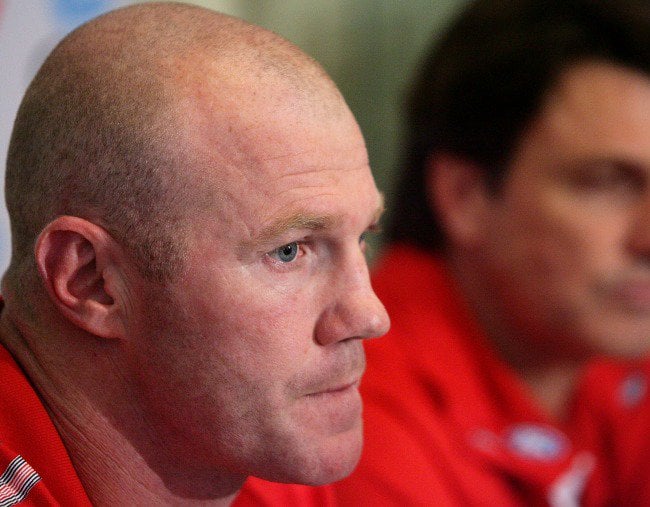 It was the radio segment that shocked and appalled Australia.
Now, almost a week on from the comments that lost Barry Hall his job, and deprived a heavily pregnant former footballer's wife of her privacy, one of the men involved has spoken about where and why things went so wrong.
The comment in question, which Mamamia has chosen not to republish, was addressed in Thursday's edition of The Sounding Board podcast, hosted by Croc Media's Craig Hutchison and Triple M's Damian Barrett.
"Clearly the conversation about Erinn and [Leigh Montagna] got to a point where it needed straightening up," Barrett said.
"It got way too descriptive. If you listen back to the transcript, I reference the words 'medical procedure'. That was an attempt on my behalf to straighten up the conversation."
Barrett did concede that the panel's laughter over Hall's comment was inadequate and disappointing.
In the end, it was not Hall's co-hosts in Barrett, Nathan Brown and Leigh Montagna that sparked action; it was actually the public and their unrelenting anger that compelled station executives to step in.
"We missed the moment," he said. "But within minutes there was an on-air apology. It took about 40 minutes before management made the decision [to sack Hall]. Texts were going into overdrive and calls were being made on air."
Read: Meshel Laurie has written an open letter to Barry Hall.
This isn't the first time Triple M has been involved in a sexism scandal; in 2016 Richmond Football Club boycotted the station after high-profile commentators Eddie McGuire, James Brayshaw and Danny Frawley made jokes about drowning fellow AFL journalist, Caroline Wilson.
While the trio was forced to deliver an on-air apology, McGuire, Brayshaw and Frawley largely escaped punishment.