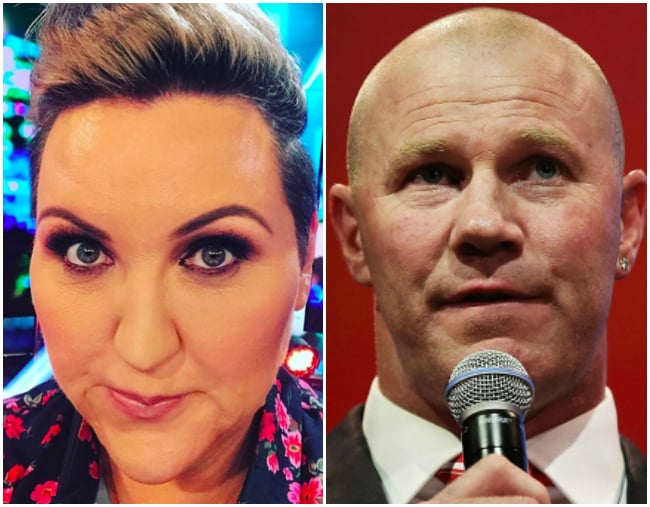 Content Warning: This post addresses sexual assault and will be distressing for many readers. 
Over the weekend, AFL great Barry Hall was sacked by FM radio network Triple M after making a vulgar on-air comment.
At the time, Hall was speaking to former St Kilda player and co-commentator Leigh Montagna during a pre-game chat at Friday night's clash between the Western Bulldogs and Geelong at Etihad Stadium.
Hall commented on the impending birth of Montagna's child, suggesting her obstetrician ought to touch her in order to stimulate the birth. The remark was excessively sexual, and the comments have resulted in a huge onslaught of backlash.
Among the pile-on, however, was a more nuanced voice – that of radio and television host, Meshel Laurie.
In an open letter to Barry Hall shared on Saturday afternoon, she powerfully explained why his joke was so harmful.
Ok, final words. Sorry I'm such a bore today. Open letter to Barry. All the best everyone. Stay safe and warm. pic.twitter.com/eqtwmBVcVw

— Meshel Laurie (@Meshel_Laurie) June 30, 2018
"This is what I'd love to tell Barry Hall. Firstly Barry, I try never to get on my high horse about people saying the wrong thing on air because I know it could be me on the end of a horrible brain snap at any time, so this is not about that.

Also , this comes from a place of assuming you are a good man. I've only met you a handful of times, and I don't pretend to know your inner workings, but on a scale of 1 to Damir Dokic, I think you're probably a pretty good dude. Let's skip right ahead, and if it please the court, I'm going to assume you would never look a rape survivor in the face and tell him or her that you thought their rape was funny.

Here's the trouble with making a rape joke on the radio during the footy the other night though, you were in people's homes, in their cars, in their workplaces, in their safe places. Some of those people were rape survivors and you laughed at them about their rapes. Right there, where they least expected it, when they were relaxing with the footy, you laughed at their rapes.
The 42-year-old added that while rape jokes seem harmless, they project immeasurable shame onto victims of such horrific assaults.
You didn't do it because you're a bad person mate, because you're not. You did it because in your circles it's obviously ok to tell jokes like that. Well the fact is, there have probably been rape survivors around you and your friends when you've told these jokes before, you just didn't know it, and how could they tell you? Maybe some of your friends are rape survivors. Did you know male rape survivors are more likely to self-harm than to ever tell anyone about their rape? Why do you think that is? It's because they spend their entire lives hearing jokes about rape. At school, at work, at footy, at the pub. How could they ever tell anyone what happened to them?

Some men even commit rape because they think men they admire, men like you, would think it was funny or at least, not think it was terrible, because they joke around about it.

I'm genuinely sorry you had to find out in such a publicly humiliating way that rape jokes matter, but I'm glad you know now. I really hope you'll help spread the word. This too shall pass Barry, your life will come back together and everyone will forget about the joke, but it's an opportunity for leadership the likes of which you'll never find on a footy field. I know you're up to it," she wrote.
The letter follows a wide public backlash to the comments, as women and men alike protest the casual objectification of women, and the horrific fact that so many men publicly laughed at a rape joke.
Many social media users were also deeply unsatisfied with the disciplinary action taken against Hall, adding that the next step should be the firing of Wayne Carey,  a man who has not only made the sexist jokes but acted on this misogyny.
Yesterday, Barry Hall and his partner responded to the backlash, sharing an apology.
Barry Hall apologised for the vile comments he made, saying it was "a silly thing to say". Speaking to News Corp Australia, Hall apologised to anyone he may have offended.