In 2017, Barry Du Bois sat alongside his Living Room co-hosts and, his voice shaking, the father of two addressed his beloved viewers: "I got some bad news. It seems my cancer has come back, reasonably aggressively. Now, I have what's regarded as multiple myloma…"
In this extract from his new book Life Force, co-written with Miguel Maestre, he reflects on why he chose to open up to the world.
***
Believe it or not, telling someone you've got cancer is draining. I summed it up like this: when someone asks 'How are you going? I hear you've got cancer', you can tell whether they think you'll make it or not. Some people hug you and say you're the strongest man they know; others are more, like, 'Ah well, sorry …' It's like they've given up on you.
The power of the mind is incredible. If you come across three people in a row that give you the look that you're not going to make it'll, you start to lose faith.
So we decided that we'd share my diagnoses with the people who watched the show. We thought if we could take them with us on my journey, it might give others inspiration.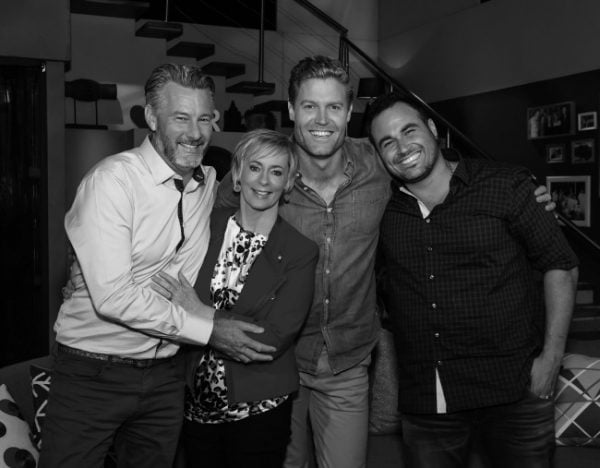 We cut the crew down to the essentials. We removed the studio audience. How would we play it? We didn't know what to do so we were just ourselves. We ad-libbed. I told my story; Amanda, Chris and Miguel reacted. What came out of it was empowering to me. It was the first time most of the cameramen had heard the story. There were lots of tears.
But there was also belief. The amount of times I heard, 'You'll do it, Baz'. It was like when my dad told me I was the best at everything. If everyone tells you you can do it, you probably can.
If the people surrounding you have doubts, it's tough.
Barry Du Bois talks to Mia Freedman about putting life on one plate. (Post continues below.)

It was two weeks before the show went to air. In the interim, I had agreed to be the MC of a fundraiser for the Many Faces of Cancer, a gig I'd signed up for at the beginning of the year. It was the story of how I had beaten cancer. It was the biggest mind-f**k of my life.