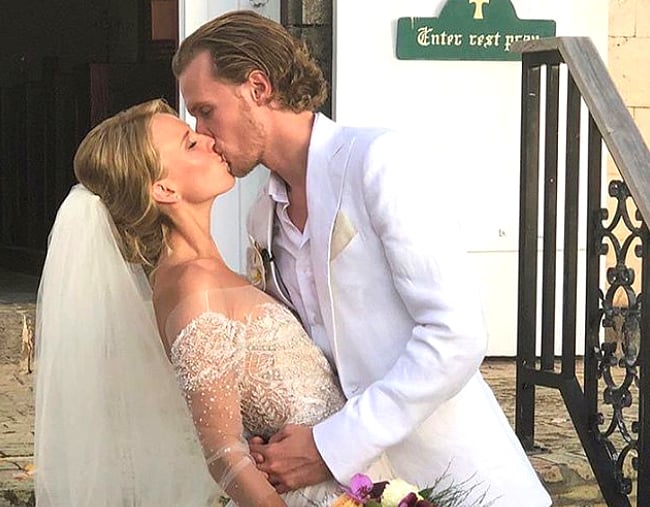 Remember the Hiltons? The famous family behind the Hilton Hotel chain?
While most of us think of Paris and her perfumes/horrible songs/The Simple Life reality show with Nicole Richie/90s fashion when we hear the Hilton name, one Hilton you might never have thought about in your life is Barron Hilton II.
He's the younger brother of Paris and sister Nicky Hilton and he got married over the weekend. The photos are as luxe as you'd expect from the hotel family worth a casual US $300 million (almost $400 million AUD).
The 28-year-old Hilton heir married Countess Tessa Gräfin von Walderdorff (yep, that's her real name) on the Caribbean island playground of the rich and famous St Barts, where the couple first met.
Wedding guests said the two-day celebration "wasn't over the top", Page Six reports. Our idea of over the top and the Hilton family's is probably a tad different though.
The 24-year-old bride wore a stunning custom Watters beaded ballgown with sheer three quarter length sleeves and an ivory veil, a gift from designer Toni Federici. Her bridesmaids wore pale blue and the groom an all-white suit.
The newlyweds were married in an 'intimate' ceremony in a church in the island's capital Gustavia. Instagram photos show the newly-minted husband and wife being showered with rose petals walking out of the church.
The usual suspects of the Hilton family were in attendance – Mum and Dad Hilton (Richard and Kathy), Paris Hilton and her fiance Chris Zylka, and Nicky Hilton, her husband James Rothschild and their daughter Lily Grace Victoria Rothschild.
Oh. They all decided to colour coordinated in pale blue and white for the occasion too.
Another family member on the guest list was Barron's aunt, Real Housewives of Beverly Hills star Kim Richards, and her children. His other aunt Kyle Richards wasn't able to attend the wedding because a press tour commitment, PEOPLE reports.
Family and friends continued the celebration at the wedding reception, which was held on the beach at Villa La Plage. A wedding guest told Page Six the couple's first dance was to 'Nothing's Gonna Hurt You Baby' by Cigarettes After Sex.
The rest of the tunes were spun by singer-turned-DJ sister Paris.
Barron proposed to Tessa in October, 2017 by a pond in New York's Central Park.
Basically, their whole love story sounds like something out of Gossip Girl.
Oh, to be the heir to millions eh?
If you're a fan of weddings, make sure you listen to our brand new podcast – Hitched. We've just launched episode one where we run through your immediate post-engagement to do list. Note books at the ready please.