If one of your New Year's Resolutions was to 'care less about celebs who were cool more than 10 years ago' then, I'm sorry to say, you've already failed.
Because here we all are, on the third day of 2018, and a full 14 years after she first uttered the words "that's hot" on The Simple Life, scrolling through pics of Paris Hilton's romantic engagement.
And by 'engagement' we most definitely mean 'that giant, sparkling diamond that takes up no less than HALF her finger'.
The 36-year-old shared the happy news with her 7.9 million Instagram followers, posting pics (and a video, because WHY NOT) of her fiancé Chris Zylka down on one knee during a New Year's trip to ski paradise Aspen in Colorado.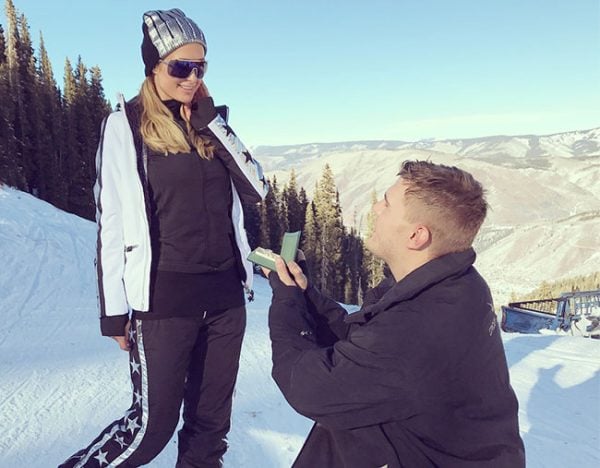 "I said Yas!" the Confessions of an Heiress author said, adding she was "so happy and excited to be engaged to the love of my life".
"I feel like the luckiest girl in the world! You are my dream come true! Thank you for showing me that fairytales do exist."
LISTEN: Can you outsource your wedding vows? The listener question dividing the Mamamia office..
Paris and Chris - an actor slash model - first met eight years ago, but didn't make their relationship 'social media official' until February last year.
But, aside from all the lovely-dovey details, there's something pressing about this engagement we need to discuss.
And it pertains to a certain big fat sparkler that now sits on the socialite and entrepreneur's ring finger.