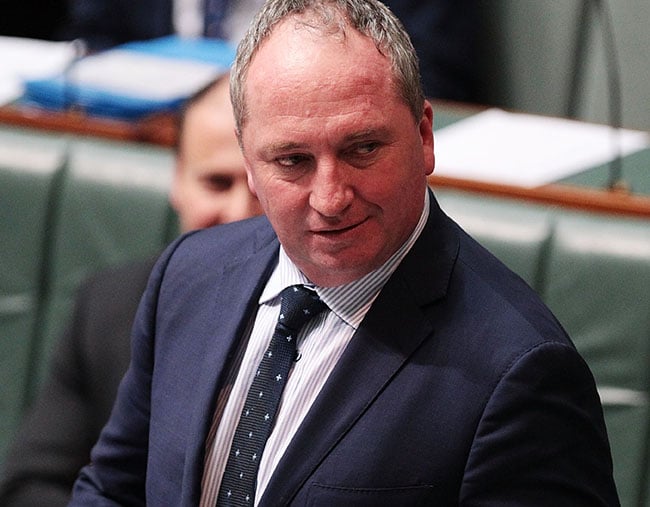 Barnaby Joyce says he is trying to be the best dad he can be to his new son Sebastian, despite the hoopla surrounding his conception and the controversial news headlines that have followed Joyce since the pregnancy was first announced.
Joyce and his partner Vikki Campion welcomed their baby boy last week at Armidale Hospital in Northern NSW. Sebastian is the fifth child and first son for the former Deputy Prime Minister, and Campion's first child.
This comes after Joyce publicly questioned if he was really the father of Campion's child, and amid sexual harassment allegations levelled at the former Deputy PM by Western Australian woman Catherine Marriott.
"Seb, Vikki and I went out to the national park today. We went down to the footy yesterday," Joyce told ABC television on Sunday night.
"We're just enjoying our own company, trying to be a family and hanging around the dinner table. I really enjoy that."
Joyce quit as deputy PM in February after 16 days of scandal over his affair with Campion, his former media adviser.
Prime Minister Malcolm Turnbull later introduced a ban on ministers having sexual relations with their staff.
But Joyce said he's now focused on spending time as a regular family and being a good father and partner.
"I know it's peculiar circumstances and people have their pluses and minuses about it," he said.
"But I'm going to try to do the very best job I possibly can and make sure that Seb has the very best dad he can possibly get."
What the hell is going on with Barnaby Joyce? Post continues below.
Joyce and his ex-wife, Natalie Joyce, announced their separation in December last year. They'd been married since 1993 and have four daughters together.
After news of Campion's pregnancy was announced, Natalie said in a statement she was "deeply saddened by the news that my husband has been having an affair and is now having a child with a former staff member", The Guardian reports.