In the wake of the very first episode of Bachelor in Paradise, Australia is grappling with a lot of feelings.
First, we're excited for Osher who is in his Osher version of heaven – surrounded by all his friends who allegedly want to find love, while wearing very loud Hawaiian shirts.
Second, we're worried about Tara, who is suffering from heatstroke and no one seems even mildly concerned, including the barman Wise.
Third, a lot of people feel blatantly uncomfortable with Blake Colman, who came fourth on Sophie Monk's season of The Bachelorette, entering paradise, given what we now know about the 30-year-old.
Shortly after leaving the competition, a story surfaced about the night Colman left a Perth man "paralysed and bleeding from the head" in 2015.
Tristan Cooper had been to two bars in Claremont, Perth on the night of Sunday, August 9, 2015. At one of the bars, a friend had been in a verbal altercation with another group of men, and Cooper had tried to diffuse the situation.
In the early hours of Monday morning, he was walking down Stirling Highway when all of a sudden he found himself lying in a pool of blood, paralysed, and certain he would never walk again.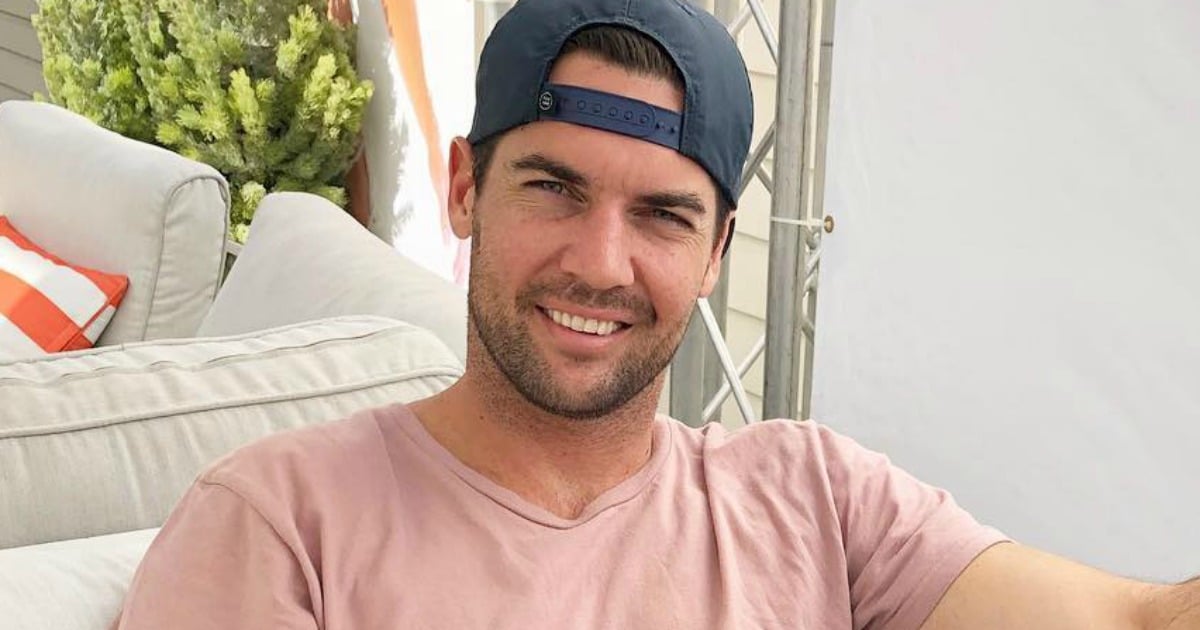 It took four staples to close his head wound.
Cooper later saw CCTV footage of the incident at the police station, and watched as Colman came up behind him, picked him up by the neck, and threw him down, watching as his head hit the corner of a window. As Cooper lay there, completely still, Colman stepped over him, and got into another fist fight.
Police were also able to obtain footage and audio of Colman in a taxi after the incident. "He was in the taxi laughing about how well he got me, to his friends," Cooper said.
It would be almost two years later, in April 2017, that Colman finally pleaded guilty in court. He was ordered to pay a fine, as well as $850 to Cooper for his ambulance costs. In October 2017, Cooper told Perth Now he was yet to receive the payment.
At the time, in a statement released via Channel 10, Colman said, "I am truly remorseful and accepted full responsibility for my actions".
But in the few short months since his stint on The Bachelorette, Colman has been at the receiving end of claims he threatened to sell nude photos of The Bachelor's Jen Hawke.
She said she was in a long distance relationship with Colman, but he became angry when she flirted with another Bachelorette star. He texted her, threatening to sell photos Hawke had sent him during their relationship.
In October, New South Wales police confirmed they were investigating a report about the incident, but weren't able to provide further information.
Speaking to Now to Love, Hawke said, "It's not normal. It should not be accepted or condoned."
"The whole issue with Blake is, it is domestic abuse. It is violence against women. It is harassment against women."
Disturbingly, it appears Jen Hawke will also enter Bachelor in Paradise, and come face-to-face with Colman.
It's a reality many viewers aren't comfortable with, sharing their opinions as the show premiered on Sunday night.
anyone else feeling weird about watching Bachelor in Paradise and just overlooking the fact that Blake Colman has a history of violence and shouldn't be anywhere near a dating show

— Kristen Daly (@kristendaly) March 25, 2018
Yes always good to have a bloke convicted of aassault put forward as a romantic prospect #BachelorInParadiseAU

— Victorian Values (@vic_values) March 25, 2018
@channelten interesting that you had Danny Green on im a celeb in support of his cowards punch campaign yet Blake has been allowed to Paradise? Where is the logic? Don't you run background checks? It's actually revolting. #BachelorInParadiseAU pic.twitter.com/VJf3luTVv5

— Samantha Elizabeth???? (@samxo) March 25, 2018
Why include a man who punched and left a stranger paralysed? Unsafe choice for a program that overflows with alcohol.

— collette stewart (@collette_books) March 25, 2018
It's likely a conversation that will continue to unfold throughout the season, and one we'll keep returning to when it comes to reality TV casting.