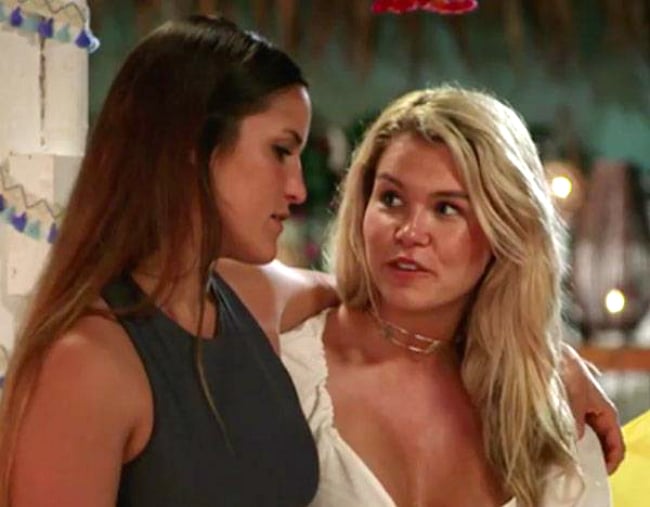 For all your Bachelor in Paradise Australia gossip in one convenient place, check out our Bachelor in Paradise 2018 hub.
Are Bachelor in Paradise's Simone and Apollo still together?
After the couple left paradise on Monday night's episode to see if their feelings for each other were real (and not a side effect of Wais' cocktails), that's all we really want to know.
Bachelor in Paradise is, after all, a show about finding love. And so far we've seen surprisingly little of that on our screens.
Unfortunately, the lack of true love continues, with Simone confirming she and Apollo are no longer in a relationship. But it's her supposed relationship with fellow contestant Elora that Simone really wanted to clarify for viewers.
Side note – let's take a moment to acknowledge the real hero of Bachelor in Paradise, Wais. Post continues after video.
"Obviously [our friendship] was really 'made out' on the show. It looked like we were friends, but we really weren't," Simone told Mamamia.
"We haven't been friends for a long time now. And we never will be. We will never speak again, [we've had] no contact since being on the outside."
Despite how it looked to us watching at home, Simone said Elora really didn't have an impact on her and Apollo's relationship. It also had nothing to do with why they couldn't make things work on the outside.
"[Us not working out had] literally nothing to do with Elora or the show. I think on the show [it came across] we weren't the right people for each other, but honestly we got along so well, we laughed so much and our personalities are quite suited because we're both big kids so we did have a lot of fun. It was literally just the timing," she said.