For all your Bachelor in Paradise Australia gossip in one convenient place, check out our Bachelor in Paradise 2018 hub.
Among proposals and definitive declarations of love, the Bachelor in Paradise finale was an anti-climatic one for Megan and Jake who left Paradise unsure of their future together as a couple.
Now, after both posted remarkably cryptic posts on Instagram, Jake has confirmed the couple are still together in a sly little comment on Instagram.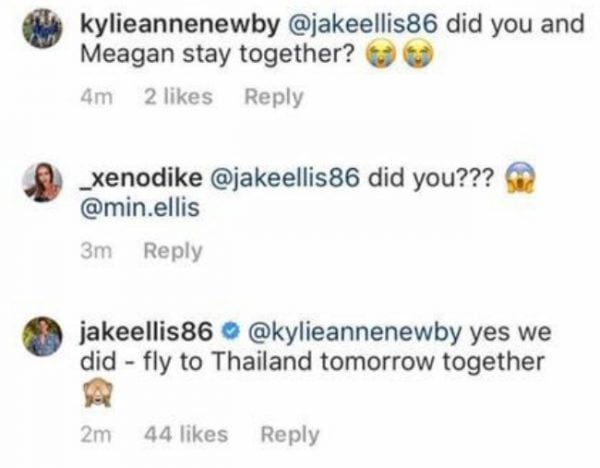 When asked if the couple stayed together by a fan, Jake wrote:
"Yes we did, fly to Thailand tomorrow together."
Almost immediately after their segment ended, both Megan and Jake posted curiously ambiguous posts on Instagram regarding the state of their relationship.
"I honestly didn't know whether our roads would end up converging in the future- whether it was right. Commitment is hard enough, let alone on national television and in a paradise world that doesn't always mimic real life," Megan wrote. "More time was needed. Love is a big word and one I wasn't ready for. I hope Australia understands that. I'm so so glad things happened as they were meant to- brakes save heartache."
We debrief on all things Bachelor in Paradise on our recap podcast. Post continues after.

Then came Jake's:
"The hardest part of this day was not knowing when or if I'd ever see you again," he wrote. "All I knew was that I wanted both of us to escape the pressure and have more time. To get to that place of wholehearted commitment and take that leap together - and this day wasn't right for either of us as much as I wished it was. But looking back now, I feel our way was the right way."
Because despite their very best efforts, it would appear there was never any need for guess-work.