It was just two days ago the world's Australian television's worst kept Bachelor secret was finally confirmed: Nick 'Honey Badger' Cummins, a 30-year-old former Wallabies winger and the truest, bluest Aussie bloke would be vying for love on the show's 2018 season.
Even before the news was confirmed, pictures of Nick's eligible women were already making the rounds.
According to Daily Mail Australia, the women are currently waiting for filming of the sixth season to begin and have been put in "lockdown" at a Sydney hotel before they are moved to the Bachelor mansion.
LISTEN: Notorious hookup show Bachelor in Paradise is coming to Australia, and we can't wait for the drama. Post continues after audio.
But the paparazzi snaps – which show the girls stretching in exercise gear, listening to music on their iPhones, smoking, popping out for iced coffee and talking and laughing with each other – have already angered past Bachelor contestants, who argue the current batch of girls are already being given way more 'freedom' than they ever were.
Michelle Paxton, a 32-year-old police officer from South Australia who was sent packing by Matty J in episode nine last year, shared a screenshot of the images to her Instagram story, writing she and her cast mates were given "nothing" while they were in lockdown before the show.
"2017 Bachelor girls: Two bedded hotel room, no TV or electronics, no leaving the room, no exercise, no sunshine, no mingling… no nothing," she wrote.
"2018 Bachelor girls: balcony's – sunshine – mingling while in lock down (sic)."
Bachelor 'villain' Jen Hawke re-shared Michelle's image to her own story, adding a red-faced, angry emoji.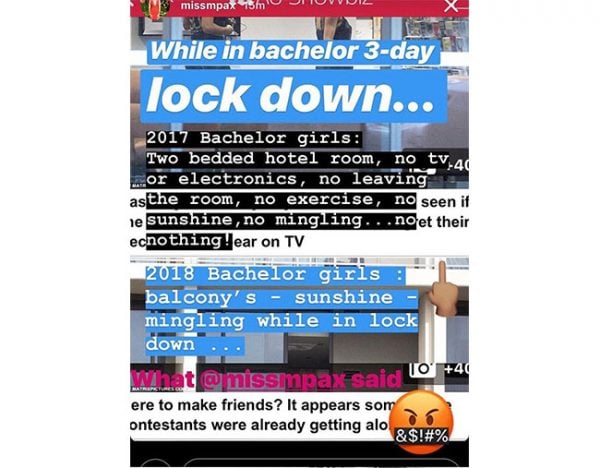 Criminal lawyer Laura-Ann Rullo, who only lasted until episode two in Matty J's season, also shared her frustration online.
"They got a balcony... window... now that's UNFAIR!!!" the 28-year-old wrote.
Despite the differences in how the contestants are already being treated, the 2018 Bachelor season is set to be like no other in the show's history.
For one, it's the first time a male celebrity has been the one vying for love, which we can only assume is a choice producers made after the commercial success of Sophie Monk's spin on The Bachelorette last year.
Also, since Nick is known for spitting out some pretty bizarre 'Australian-isms' - think "sweatin' like a gypsy with a mortgage" and "tough as woodpecker lips" - this may be the very first Bachie season where the audience is treated to subtitles on every single episode.
Now, if only Bachelor In Paradise would hurry up and start (and finish) so we can watch Nick find love, that would be swell.
LISTEN to the latest episode of Mamamia's pop culture and TV podcast, The Binge:
Shout out to all Dads.
Here at Mamamia we are always looking for ways to make Mamamia even better. Dads, we need you to help us do that by filling out this quick 15 min survey for us. Click the button below for your say.

Want to win some skin care goodies? Like to have your opinion heard?
Take our short survey now for your chance to a win a skin care pack.