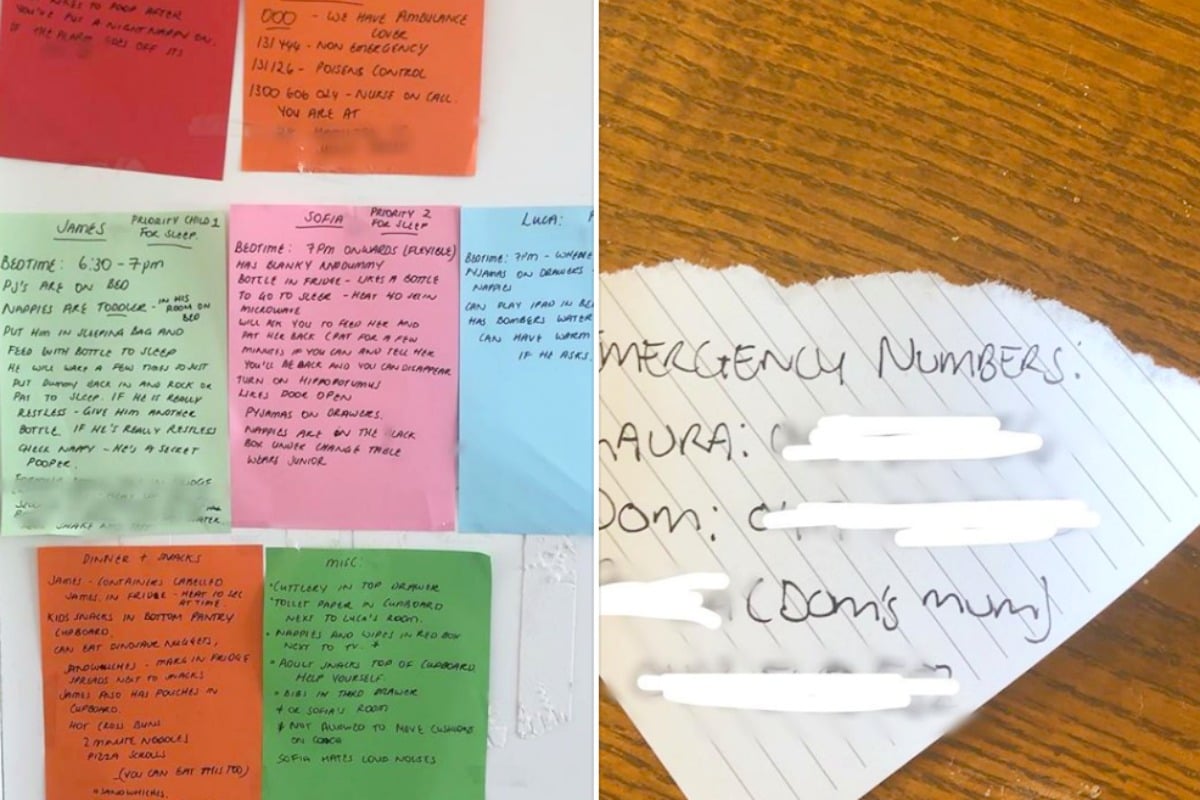 Melbourne mum Laura Mazza, who runs the Mum on the Run blog, posted something which every couple raising a child together can relate to: the different definitions of the "need to know" information for the babysitter.
Mazza  posted side-by-side photos of the two sets of instructions she and her husband left for their babysitter one night, with obvious – and hilarious – results.
As parents of James, Sofia and Luca, Mazza and her husband had very different takes on what someone caring for their kids might need to know in their absence.
Mazza posted her extensive, colour-coded, multi-page list, which included information on bedtimes  and food preferences. Her husband's instructions, however, were much more succinct, comprising simply emergency phone numbers – and presented on a torn-off piece of paper.
"Mum vs dad in information for the babysitter," Mazza captioned the photos.
"I don't even need to tell you which is which."
Mazza explained that they were attending a wedding, but was finding the experience of leaving the children with a babysitter somewhat stressful.
"Oh the anxiety of leaving your children with someone is real, right?" she wrote.
"I'm almost tempted not to go out but it's a wedding so we have rsvp'ed."
LISTEN:Zoe Marshall shares her thoughts on letting others help her balance work and family in The Baby Bubble podcast:
To alleviate her concerns about the care her kids would receive, Mazza wrote her comprehensive instructions, and "labelled everything around the house – including the bathroom."
She also asked the babysitter to arrive two hours earlier so she could go through every detail.