US rapper Azealia Banks has told fans she was drugged and raped, sharing her account of what happened on the weekend on Instagram.
On Saturday night an image of white writing on a black background appeared in her Instagram Story saying: "Lowkey just got raped. I feel like dirt."
The 26-year-old followed this shocking announcement with a series of audio recordings telling fans, through sobs, how she was coerced into sex. In a later post, the 212 singer indicated that she was drugged, asking her followers "what is even in a roofie?"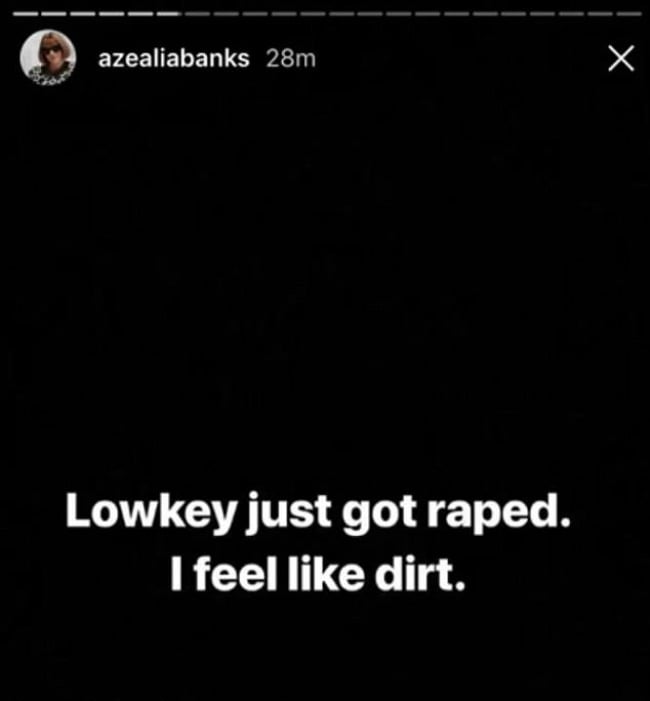 "You don't really realise it like this rape sh*t," she said.
"Men can just prey on you and f**king like badger you, force you to say yes… to the point where you feel like you gave consent but you didn't give sh*t. You never wanted to do sh*t… someone really just got the f**king best of me."
"I just feel so dirty and stupid right now, you know?"
Banks next words are devastating, as like so many victims, she wrongly blames herself for the assault.
"We were just hanging out and one thing led to another… I just feel really dumb, because it was partially my fault… I'm just like sitting here like feeling f**king low and sh*t… I just want to f**king disappear right now."
The New York songwriter said she was also contemplating shutting down her social media accounts.
"I don't think I can put out anymore music right now."
"I'm gonna take down all of my accounts because I'm just like embarrassed. I just feel like really broken down and feel like rebuilding myself as an artist. I don't know how to face y'all."
She also asked for help from her manager and friends in New York.
Vanessa Grigoriadis explains the importance of mattress girl. Post continues.

Later though, the artist told fans she was feeling better and that her Sunday night performance was still going ahead as scheduled.
"I'm awake and walking y'all!! I'm good!! Like I said… it takes a lot to take this elephant down!! Show is still on for tomorrow.. See y'all then!!!," she wrote.
She followed this by asking, "What is even a roofie? I've never felt that type of intoxication in my life. I woke up my throat was in pins and needles."
And finally: "It's under control now my brothers and friends are here. I'm going to be fine don't panic guys. I love you. I def got drugged in my drink but I'm waking up again."
Banks did not name her attacker and it is unclear if she has reported the alleged assault to police.
If you have been sexually assaulted or the victim of violence or abuse, there is support available. You can phone 1800RESPECT anytime on 1800 737 732.