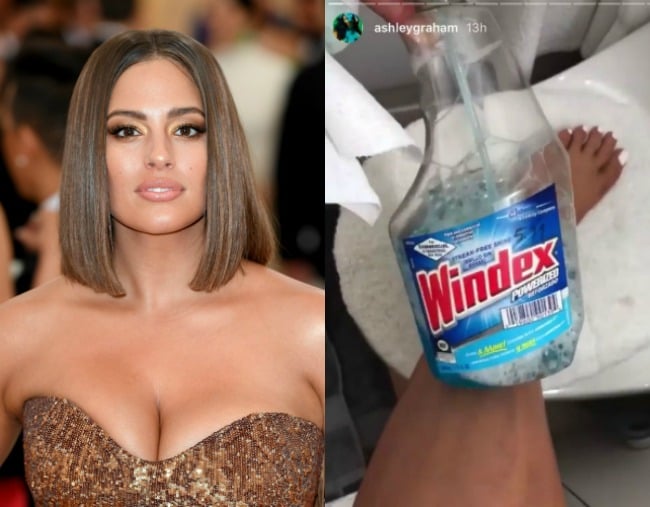 Want to achieve perfectly tanned steak-free legs? Go raid the cleaning product cupboard.
At least… that's what Ashley Graham does.
The 30-year-old model shared her secret 'hack' for a streak-free tan involving Windex glass and surface cleaner to her 6.8 million Instagram followers earlier this week.
As seen on her Instagram story, Graham used a Windex-soaked paper towel to scrub away at streaks left in her fresh tan by drops of water running down her legs.
There's no denying from the videos that the model's Windex-buffing trick worked – her legs went from streaky to perfectly streak-free and glowy.
"After! No streaks," she captioned the after shot.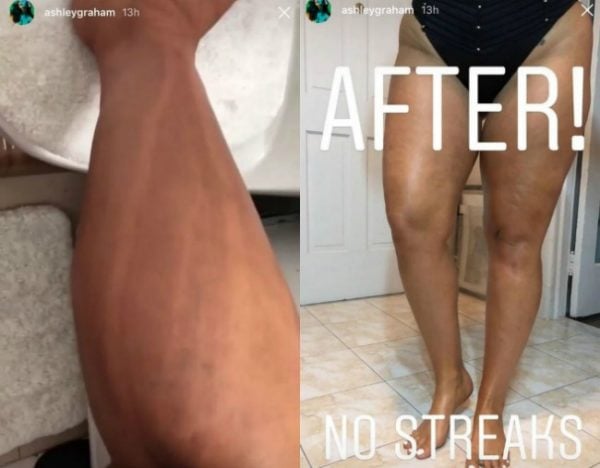 The advice, of course, raised many an eyebrow. And, let's just say experts aren't too impressed with Graham's bizarre tanning trick.
Speaking to Page Six, NYC dermatologist and author of The Beauty of Dirty Skin Dr Whitney Bowe said "it's a definite 'no' in my book".
"Windex is comprised of several very harsh and irritating ingredients, including fragrances, dyes and ammonia, as well as very powerful detergents and solvents," she said.
Windex, which contains disinfecting properties, can also kill off the skin's healthy bacteria, leading to irritation and inflammation.
"Not only can it cause inflammation and irritation, but if it's your go-to remedy, it can also lead to eczema and other major skin issues down the road," Dr Bowe said.
"I would absolutely avoid it."
NYC-based dermatologist Dr Shereene Idriss told Teen Vogue that Windex also has the potential to lead to infection, hyperpigmentation and scarring if used consistently.
"In addition, if inhaled in large amounts it may result in laboured breathing requiring more intense medical intervention."
The verdict? Yep, it's exactly like you thought. Avoid using cleaning products like Windex to fix your self-tanner streaks.
Instead, Dr Bowe recommends using skin-safe products, like this DIY coffee scrub or make your own sugar scrub.