As an activist for body positivity, Ashley Graham isn't one to let body shaming slide.
When "fans" of the supermodel began leaving nasty comments on her latest Instagram post, Graham responded by replying to each of her body-shaming trolls.
In a photograph posing in her bikini with a friend on a girls trip in Miami, Graham wrote: "Take me back".
But "fans" said the photograph was "too much".
"I love her but this is too much," the "fan" wrote.
"You can never have too much of a good thing girl!" Graham replied.
Another wrote: "Now that's not pretty at all."
"I love my pose! Look how much fun I'm having with my bestie!!" Graham responded.
Commenters praised Graham for her positive responses to body-shamers.
"Be proud of those thighs and hips girl. You are amazing!" one woman wrote.
"People on here saying 'this is too much'. WTF IS TOO MUCH?! How she's having fun with a friend? How she's enjoying her life? What sadness you must live in that seeing people happy makes you feel uncomfortable," another wrote.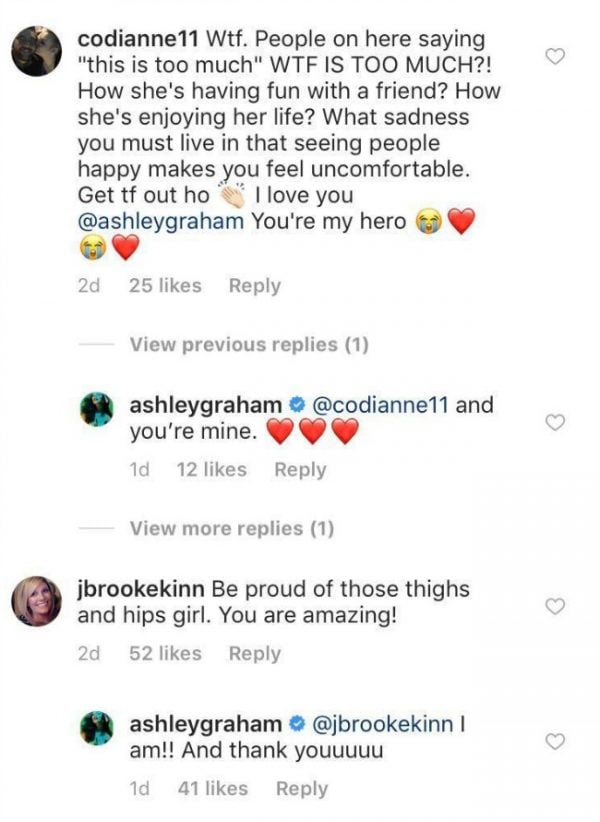 The cruel comments Graham received on her post speak volumes about people's attitudes towards plus-size models.
Although Graham's fans love seeing the plus-size model on the covers of Vogue and Harper's Bazaar – they're not fans of her personal, naturally posed Instagram shots.
They're comfortable with a plus-sized model – but they only want to see her in the confines of a professional photoshoot.
They want to see manicured, photoshopped, perfectly-polished, choreographed shots of Graham.
But a natural, unedited, swimsuit shot? No thanks.
In an opinion piece for Lenny in 2016, Graham wrote about how she is often criticised on social media for being "too fat".
"To some I'm too curvy. To others I'm too tall, too busty, too loud, and, now, too small – too much, but at the same time not enough. When I post a photo from a "good angle," I receive criticism for looking smaller and selling out. When I post photos showing my cellulite, stretch marks, and rolls, I'm accused of promoting obesity. The cycle of body-shaming needs to end. I'm over it," Graham wrote.
"My body is MY body. I'll call the shots."