Well. This. Is. Awkward. (Supposedly).
Angelina Jolie was – gasp – busted ignoring Jennifer Aniston as she presented an award on stage at the Golden Globe Awards. Or she happened to be looking down at her table, but let's consider option A.
We know it's been 12 years since this 'feud' began and yes we still care, so here's what happened.
Cameras managed to catch Angelina looking down at the table while Jennifer presented an award with Carol Burnett to Rachel Brosnahan for The Marvelous Mrs Maisel.
The camera also caught Fifty Shades Darker star Dakota Johnson looking towards the Maleficent actress with what was obviously silent judgement.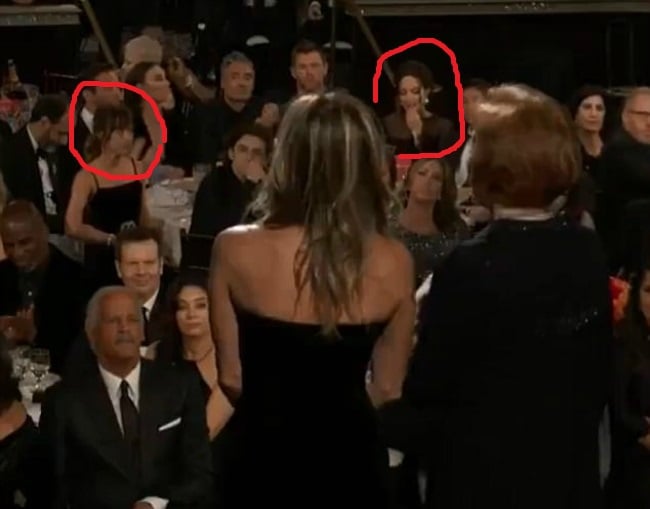 Of course, Ange could have just been looking at her nails - or you know bored, because she'd been no doubt sitting there for several hours already - but don't be fooled. She was definitely ignoring her 'rival' Jen. You know, because of that guy they both married and later broke up with - Brad Pitt?
Look, we're sure Jen doesn't lay awake at night in her mansion with her loving husband Justin Theroux and think about ways she would like to torture Ange. But while they may be may be over it, we are still totally hung up on the biggest 'love triangle' of the noughties. It can't just be us, surely.