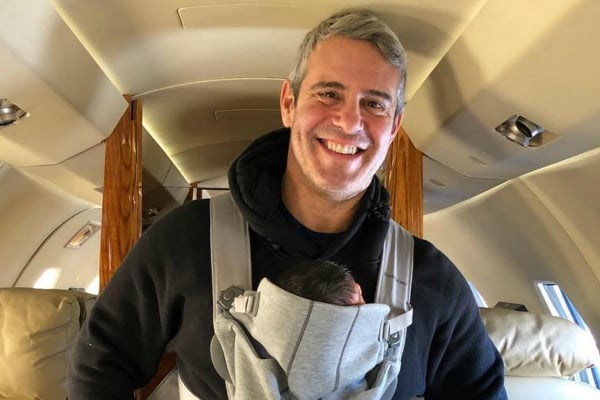 When you finally become a parent, after years of hoping and dreaming, and you share a photo of your baby with the world, what do you want? Gushing.
What do you get? Judgement.
US talk show host Andy Cohen found that out when he posted a photo of himself with his newborn son Benjamin on a private plane. Cohen's son arrived via surrogate on February 4.
"I'm in love," he wrote on Instagram, alongside a picture of him holding his baby to his chest. "And speechless. And eternally grateful to an incredible surrogate. And I'm a dad. Wow."
Over the weekend, he followed that up with the photo taken on the private plane, as he flew his son home from Los Angeles to New York. Benjamin was in a baby carrier. Cohen had a huge smile on his face.
"Digging the #DadGear!!!" he captioned it.
 

View this post on Instagram

 

That's when the dad-shamers came out.
"Google says it's too early to take baby on plane," sniffed one. "Wealthy do what they want."
"Hey, idiot," posted another. "Head needs to be covered and ears could pop. Better check with a good nanny now."
The criticisms went on:
"He is supposed to be in a bundle wrapped up, three days old. I thought you were better than that, Andy."
"It's like a new accessory."
"Think global warming now you're a dad. Fly commercial."