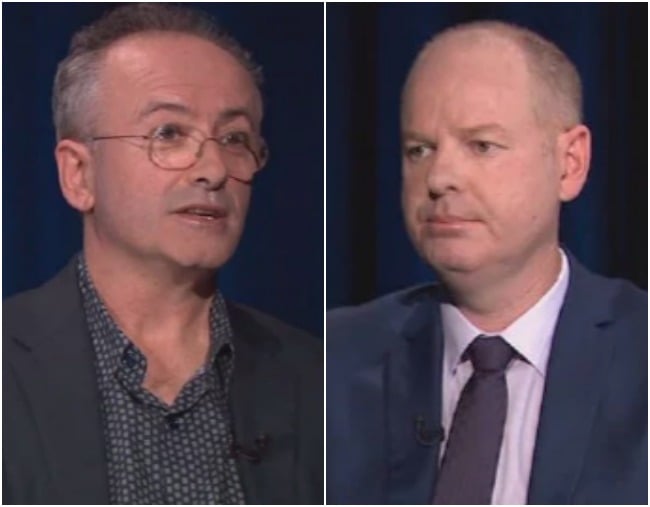 When most well-known Australians find them nestled in a chair opposite Tom Gleeson for Hard Chat, few muster more than a couple of giggles in response to his often brutal line of questioning.
Not Andrew Denton.
You see, on Wednesday night's Hard Chat, Denton turned the segment on its head, brilliantly schooling Tom Gleeson instead.
It started like this:
"Now you have a brand new show called Interview on Channel 7, what's the point when I've nailed the genre?" Gleeson probed.
"You can only keep an interview up for about four minutes, so you're like a premature interrogator, whereas I can go for about an hour," Denton shot back, before realising Gleeson had lost his rhythm and didn't know what to ask next.
Watch the full segment here. Post continues after video:

"Oh, hey! You've just lost your way. This isn't an interview, that was awful."
Gleeson, the master of dry sledging, hit back.
"Well, it's edited so it doesn't matter."
"Is that right?" Denton replied. "So I can say you're a f*cking idiot and you'll edit that out?"
"No," he said. "I'll leave that in."
Gleeson went on to joke that Denton wants to change euthanasia laws "in case [he] need[s] to put [his] new TV show down". He is, of course, referencing his new venture on Channel 7 called Interview.
"You know, there are some things I don't think is appropriate to joke about … assisted dying is one of those things.
"I was raised to have compassion for the dying, it's why I agreed to come on this show," Denton joked.
Gleeson went on to fire a final shot at Denton's new show, asking if perhaps he could be a guest on the show.
"Why?" Denton replied.
"To increase ratings … my show rates more than yours," he retorted. "If I went on there I could draw a younger audience over to your show."