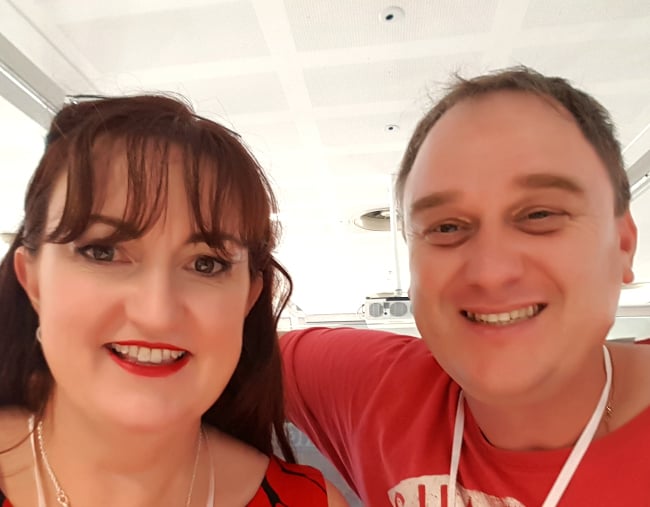 Content warning: This story deals with the subject of suicide, and will not be appropriate for all readers. 
"All I want is to spend more time together, just us as a family," Amanda Howard choked through tears as her husband Steve drove her to work on a Friday morning.
She was exhausted.
Amanda's job as a true crime author and serial killer expert interviewing some of the world's most heinous serial killers took her across the country and into the darkest minds of humanity. Steve's work also regularly took him interstate and overseas.
Juggling their successful careers while raising two school-aged children meant the Sydney couple were so busy, they often had to book in time to see each other.
"We were so incredibly busy," the mum-of-two told Mamamia.
"We were tired, but we were happy. We had a great life."
Last year, Steve bought his dream car. He was successful, he loved his job and loved the people he worked with. "Look where we are, babe!" he'd told his wife the weekend before it happened.
"We were actually talking about how we'd finally made it. We'd made it to the point where the kids were settled, the bills were all paid, and now it was about filling the bank accounts and experiencing life together."
"Our children were starting to get more independence, and we were going to get more time together as a couple."
That happiness didn't stop Amanda from being utterly exhausted that Friday morning.
So exhausted, she forgot to say goodbye to Steve – like she did every other morning, without fail – before closing the car door behind her.
"I shut the door that morning and I didn't say goodbye, it's probably the only time I never said goodbye but I was just so tired that I got out of the car and shut the door and kept going. And he drove off."
That was the last time Amanda saw her husband alive. In hindsight, she wishes they'd taken that Friday off.