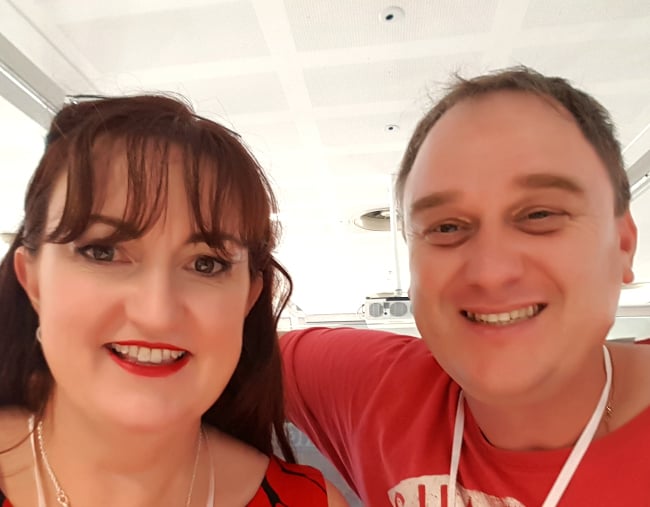 Content warning: This story deals with the subject of suicide, and will not be appropriate for all readers. 
"All I want is to spend more time together, just us as a family," Amanda Howard choked through tears as her husband Steve drove her to work on a Friday morning.
She was exhausted.
Amanda's job as a true crime author and serial killer expert interviewing some of the world's most heinous serial killers took her across the country and into the darkest minds of humanity. Steve's work also regularly took him interstate and overseas.
Juggling their successful careers while raising two school-aged children meant the Sydney couple were so busy, they often had to book in time to see each other.
"We were so incredibly busy," the mum-of-two told Mamamia.
"We were tired, but we were happy. We had a great life."
Last year, Steve bought his dream car. He was successful, he loved his job and loved the people he worked with. "Look where we are, babe!" he'd told his wife the weekend before it happened.
"We were actually talking about how we'd finally made it. We'd made it to the point where the kids were settled, the bills were all paid, and now it was about filling the bank accounts and experiencing life together."
"Our children were starting to get more independence, and we were going to get more time together as a couple."
That happiness didn't stop Amanda from being utterly exhausted that Friday morning.
So exhausted, she forgot to say goodbye to Steve – like she did every other morning, without fail – before closing the car door behind her.
"I shut the door that morning and I didn't say goodbye, it's probably the only time I never said goodbye but I was just so tired that I got out of the car and shut the door and kept going. And he drove off."
That was the last time Amanda saw her husband alive. In hindsight, she wishes they'd taken that Friday off.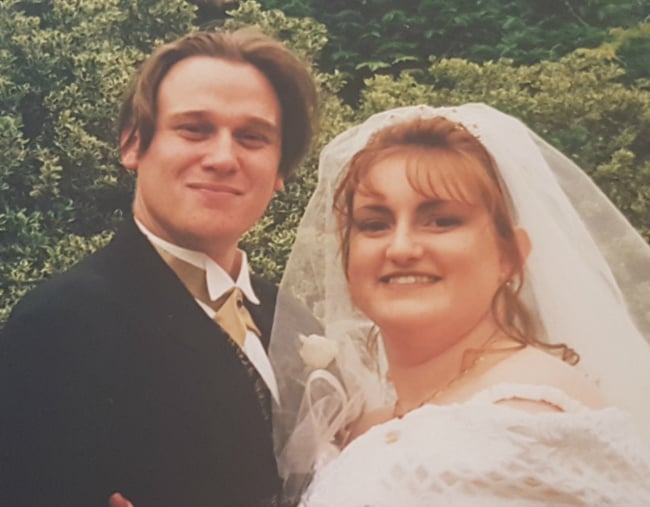 Amanda and Steve met in high school thanks to what she describes as "a comedy of errors".
"We were just odd. It was a partnership that on paper shouldn't have worked but it did. People we went to school with said if they had to pick two people from our year who'd end up together, there's no way it would've been us. But we were absolute soulmates," she said.
"We were high school sweethearts. We were both older students, he was 18 and I was 19, and we ended up at the same school. He'd moved to the area and I'd suffered a head injury right before my Year 12 exams and had decided to go back to sit them again.
"He had blue hair. And nose rings. He was the wild bad boy and I used to sit in the playground and read a book. We were polar opposites. We were never meant to be, but after school finished we got together. We were together for 20 odd years. We had two beautiful children together."
Amanda describes her husband as being "hilariously funny but extremely shy at the same time." He was the nice guy.
"Everyone who met Steve loved him. If he let you in, you would realise how amazing he was. People fell in love with his outward personality but he was so reserved at the same time," she said.
"If something needed doing, he'd do it. If someone needed help, he'd help. That week [he died], Steve turned up to one of my work functions and helped pack up chairs - he [did] stuff like that."
Amanda said their marriage had its ups and downs that often culminated in "these passionate fights that would drive the rest of the family mad."
"I had caesareans for both my children so Steve got to hold the babies first, and he sobbed his heart out. When I walked down the aisle, he cried and cried and cried. He [was] that passionate.
"I wonder if his passion was the problem."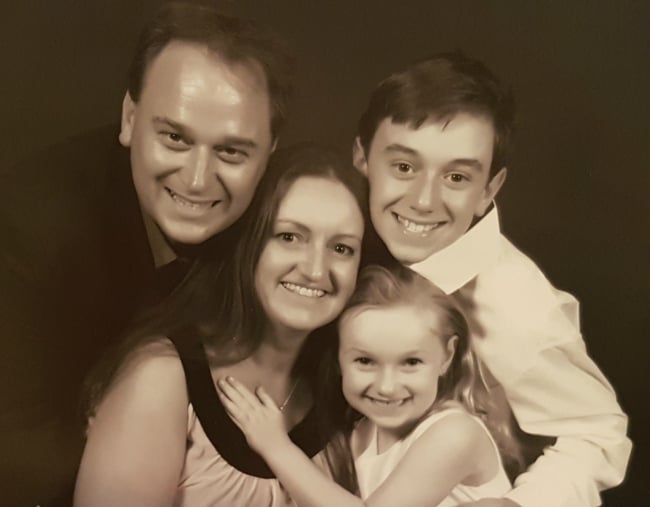 The week leading up to that Friday morning had been a kerfuffle. Both Amanda and Steve had been interstate for work and their daughter had broken her leg. It was also the last day of the school term.
At lunchtime, Amanda sent her husband an email about her parents coming to visit. She waited for his response, but there was nothing.
Amanda's son picked her up from work early that afternoon and they drove together to get her daughter from school so she wouldn't get bowled over by the other kids in the rush to start their holidays.
She tried to ring Steve multiple times because at the end of term, they'd often go out for dinner and recap on the term and what they'd done that week.
"We'd do things like that as a family," she said.
But he didn't answer his phone, which at the time struck Amanda as "really, really odd".
"Even if he was really busy, he'd always pick up his phone and say 'I'll call you back.'"
"So I actually rung his work to ask if they'd seen Steve. They said he's headed out at lunch but hadn't come back, but he left his laptop here and they assumed he'd be back soon.
"My gut told me something was wrong. I didn't know, but I felt like, 'this isn't like him.'"
When Amanda and her kids got home, she made her way into their bedroom. Her husband's wallet was sitting on the bed. She knew he'd taken it to work that day though.
"As soon as I saw it, I thought 'maybe he's here somewhere, maybe in the shed.' So I went outside and pressed the clicker to open the garage. I spotted his car first. I thought, 'why's his car here?'."
As she walked closer towards the garage, Amanda found her husband's body. He had taken his own life.
"I started screaming. It's an image that... no one should ever have to see, seeing him like that."
"My son came flying out of the house as well and [when he saw Steve] he started screaming as well. My daughter also came out, but we stopped her from coming any closer, so thankfully she doesn't have that image."
Amanda's neighbours heard their screams. She remembers they had to physically drag her off the property and into theirs because she was hysterical.
"I was trying to talk to 000 to get an ambulance but they couldn't understand me because I was screaming hysterically. It was horrible."
Three quarters of all suicides are men. We asked men to talk about how mental health has impacted their lives. Post continues after video.
It's been 10 months since Steve took his own life. Amanda and her children struggle everyday, trying to figure out what happened to make their husband and father end his life.
"It's as raw and as horrible and as nightmarish today as it was that first day. There's been no healing, there's no coming back from this. We were so in love, I lost my person," Amanda said.
"The only thing that keeps me going some days is my brain thinking he's going to walk back through the door, that he's away on a business trip. Then I get the image of him dead and it's like a punch to the stomach. It is painful, it physically hurts, then you realise that the reality is the nightmare."
"We spend our time blaming ourselves, we spend our time trying to find out how we could have made him better, wondering what we did wrong and how we could have stopped this. All three of us have spent so much time trying to work out this tragedy. We have no idea.
"The most horrible part is that we don't have answers. We don't know what happened to make him do this. He didn't [seem to] suffer from depression, but he must have."
What we do know is one in two Australian men have had and will have a mental health problem at some point in their lives. For men in particular, statistics tell us this can end tragically in suicide.
Three out of every four deaths by suicide are men. Consistently over the past 10 years, male suicide deaths have been around three times higher than those of females. In 2016, 75.1 per cent of people who died by suicide were male, Mindframe reports.
In tearing apart every aspect of their blissfully happy lives together searching for something, anything, to explain what drove her husband to take his own life, Amanda now realises his childhood may have had something to do with it.
"Steve had a horrible childhood, he moved around schools and his parents were separated. He was subjected to horrible abuse as a young boy, he'd gone through so much and he was so proud of how much he had achieved in his life," she said.
"Anyone who knows me knows how much I have torn apart the signs. I'm learning now that significant abuse in people's childhood does culminate in this horrifying, fatal result later in life. I have hindsight now, I have hindsight about his childhood."
The final report from the Royal Commission into Institutional Responses to Child Sexual Abuse released in 2017 further supports the evidence that men, like Steve, who suffered abuse - including sexual abuse - are at risk of experiencing long-term negative consequences. For some survivors of child sexual abuse, they can be fatal.
Almost 95 per cent of the survivors who came forward as a part of the Royal Commission said their abuse in childhood had impacted their mental health. Most commonly, survivors described experiencing episodes of poor mental health such as depression, anxiety, post-traumatic stress disorder (PTSD), other symptoms of mental distress such as nightmares and sleeping difficulties, and emotional issues such as feelings of shame, guilt and low self-esteem.
16 per cent reported having attempted suicide and almost one in five spoke about having had thoughts of suicide.
Survivors also described what kept them from seeking help and speaking about their abuse earlier. Most felt a deep sense of shame and embarrassment about the sexual abuse, which either prevented them from telling others or meant they told only parts of the story.
For Amanda, it's horrifying to think her husband might not have felt he was able to confide in her.
"We all expect our men to be tough and brave and never cry but I think it killed him. I think he was holding things in so he could hold our family together. And I think it's what undid him, it's what undoes a lot of our men," she said.
"It's horrifying they think they can't let it out, that it breaks them. That they're in such darkness, they think talking out is a weakness when it's actually a strength."
Want to hear to more?  Listen to No Filter in iTunes, Android or on Mamamia.
Amanda was always one of those people who had five, 10 and 20-year plans. Until she lost Steve, everything was going to plan. She said the day he died, all of that went out the window.
"Everyday we get up and we face the world. Some days are better than others but there are no good days anymore."
"Our children are trying. My daughter has endured bullying at school because she doesn't have a dad which is horrifying. Trying to keep the three of us together, it's really, really hard.
"All over my social media accounts was the hashtag #blessed, I'd put photos up of my family all the time and write #blessed because we were lucky, we had a beautiful, blessed life. Now it's dark and grey and horrible.
"We were the family that comes home at the end of the day at tell each other about our days. The kids and I now can't even do that because it's not the four of us. We set the table for dinner at night and get our four knives and forks. It's silly things like that when we stare at the knives and forks and think there only needs to be three.
"Getting up and making the bed is an achievement some days. I have no future plans, I have no idea when I'm going to write the next book. I just mourn everyday."
Nothing can bring Steve back. His death destroyed his life and affected the lives of everyone around him. The loss of this loving and devoted husband and father is still so raw for Amanda. She still wears her wedding rings, she can't take them off.
But she's willing to tell her story if it can save another life. Then, it's worth it.
"Men, please speak out. It is not a sign of weakness, it's a sign of strength. Everyone's there to help, we want to help, please ask. And to the wives and the children - check in. Checkin with your husbands and fathers and brothers, just say how are you going mate?"
"Death is a very permanent solution to something a couple of people together might be able to solve. [Suicide] is such a waste of beautiful lives that are out there.
"I miss him so much. I don't want his death to be in vain. Our destruction might make someone else think, 'I'll talk to my wife.'"
If you or someone you know is struggling with mental illness, please seek professional help and contact Lifeline on 13 11 14, Beyond Blue on 1300 22 4636, MensLine Australia on 1300 78 99 78 or Suicide Call Back Service on 1300 659 467. If someone is in immediate danger, call 000 immediately.