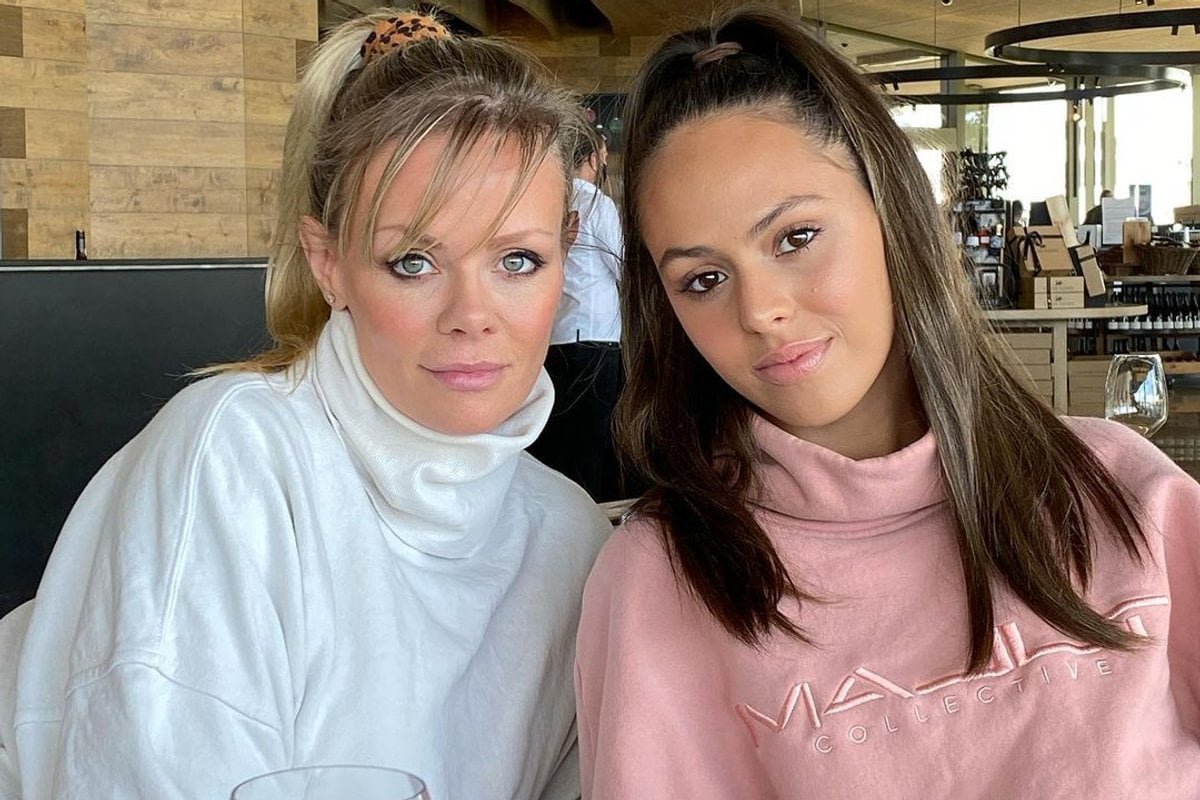 This is an edited extract from Silver Linings: A Journey to Happiness by Alex Fevola, published by Lake Press, RRP $34.99, available in-stores nationally and online, Friday April 1, 2022. 
This post deals with suicide, and could be triggering for some readers.
When I woke up at my sister Zoe's house, I was somewhat disorientated. 
Oh God, what time is it?
Where am I? I leaned over and reached for the clock. 
It was 6am on the dot. The date was February 18, 2000. Mia needed her morning feed. 'Hang on, baby, I'm getting your bottle,' I called out from the kitchen as Mia murmured in her portacot.
As I waited for the kettle to boil, I wondered whether Lonny would have left for work yet. I wondered how long he had kept drinking and what state he would be in. He's probably got a terrible hangover, I thought as I made Mia's bottle. I wonder if he regrets last night. 
Is he worried about us and wondering where we are? 
I contemplated packing up and going home right then. I peered through the blinds to see dawn just breaking, the sky deep purple, and the birds were just starting their morning chorus. Too early and too cold for a newborn baby. 
Quietly I slipped back into my sister's spare bedroom and snuggled up to Mia as she drank her bottle. I must have drifted back off for an hour or so. 
'Al, do you want some toast?' Zoe called out. 'Yes, please. I'm just changing Mia's nappy and then I will join you,' I replied through a yawn. 
I was exhausted. My eyes were heavy, and I felt generally unwell. People kept reassuring me it was due to hormones, but my instincts had been prodding me late in my pregnancy and continued after the birth. 
I'd hoped the dread would be gone after the birth, but it wasn't. I had a strong feeling that something was very wrong in my world, that something really bad was going to happen.
It was a feeling that I just couldn't shake. It had first come over me a couple of months earlier, on New Year's Eve 1999, just two and a half weeks before the birth. 
Listen to Mia Freedman and Alex Fevola on Mamamia's No Filter. Post continues below.
I had gone to a friend's place for a barbecue with Lonny. I was nine months pregnant, feeling rather ordinary in many ways, but as I watched everyone drinking and laughing this overwhelming feeling of dread flooded over me. 
It was a dark feeling that I couldn't explain. I had never felt it before, but I knew that the new millennium was not going to bring happiness for me.