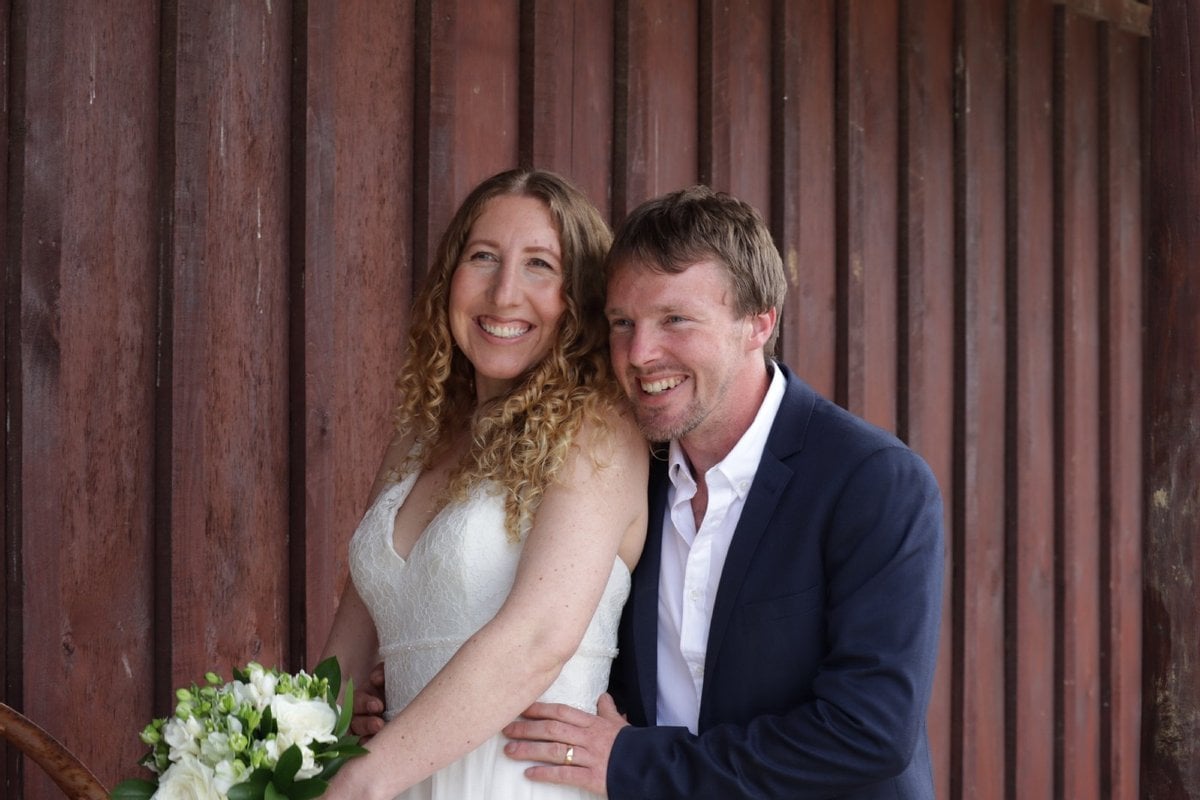 I could feel my body shouting, "Here comes mid-life!" and that wasn't something I wanted to face yet, especially since my husband is still in his early 30s. But, I found myself standing in front of an airport bookstore display. It was filled top to bottom with: Don't Sweat It by Nicky Pellegrino. A menopause book. I wrestled over whether to buy it. Picked it up. Put it back down again.
I knew once I'd read it, I couldn't unread it. I would know what I was heading into. I'd know all the horrors of menopause and ageing as a woman, and I'd have to face them. I wouldn't be able to pretend I was ageing-backwards anymore, like I'd been joking about with my much younger husband.
Watch: Do we need a new word for middle-aged? Post continues after video. 
Our age gap love has never been an issue. At 31 his beard is turning white in patches, while at 43 I still haven't found a single grey hair on my head. But ageing with a husband who is 12 years younger feels a little scary. We've only been married a year and when we started dating three years ago, I convinced myself the age difference wouldn't matter. And it doesn't. It hasn't.
But will it matter when I'm menopausal? Will it matter when my skin loses its elasticity and my body changes and morphs into a mid-life body while he's still in his 30s or 40s?
Menopause is the start of losing my youth, losing my waistline, losing control. It's not sexy - that was my view on it and the one society often tells us. I wanted to pretend it wasn't happening; that menopause is years away and that, somehow, having a younger husband delays it.
"You're only as old as the man you feel," I laugh and tell people when they ask about our age gap, which isn't very often. We look similar in age. Or at least we do for now. But will that always be the case?
I remember seeing a wedding photo of my aunty and uncle when I was a kid and thinking how much she'd aged compared to him. (And she was younger than him.) Will people think the same thing about me in a couple of years?
I stood in the airport, holding the pink menopause book and found myself heading for the counter.
"I bought this," I told my husband, showing him the cover. 
"Cool!" he said. "I'm going to go get a coffee. Can you watch the bags?" He doesn't seem bothered by the idea of me ageing at all. I can't help feeling bothered by it. I have no idea what to expect. The only symptom I've experienced so far is a lack of periods. Is that going to be it for me?