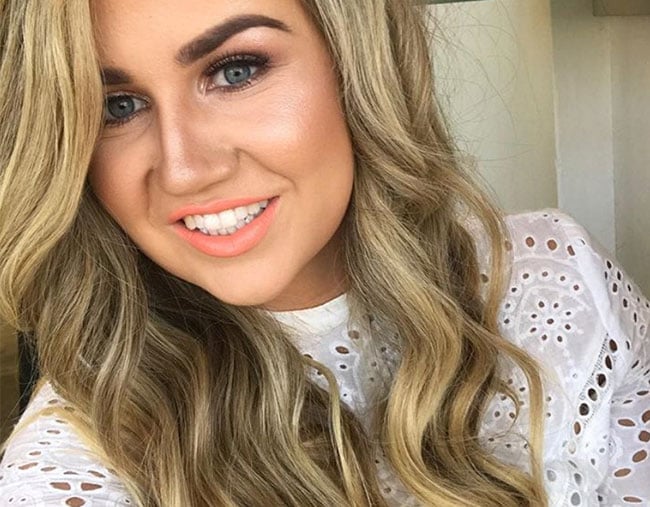 1. Months after revealing her AFL-playing fiancé cheated on her, Abby Gilmore has had the last laugh.
Nearly five months ago, blogger, mum-of-two and former WAG Abby Gilmore gave an explosive interview with the Herald Sun, detailing the depths of her fiance's infidelity and alleged gambling addiction.
In the interview, Gilmore recalled the moment she found out her fiance – Essendon footballer Jake Stringer – had been consistently cheating on her while pregnant.
"I was just chilling with [Jake's teammate and Abby's best friend Jason Johannisen] when I got this message and just went pale," Gilmore said, explaining the message was from a 17-year-old schoolgirl who alleged she had been sleeping with Stringer.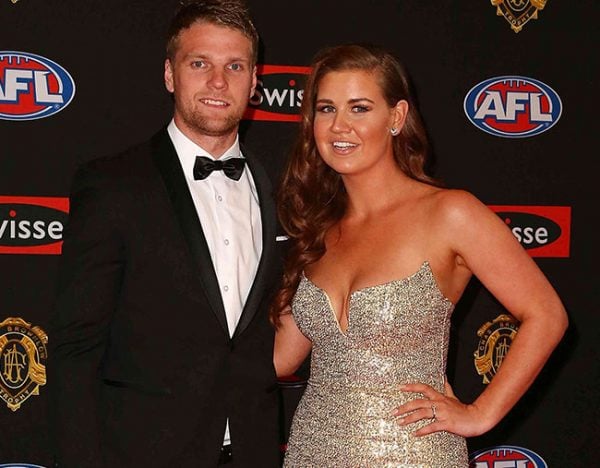 "I showed Jason. We both had no idea."
After calling the schoolgirl, Gilmore learned the pair had been sleeping together for more than four months.
Now, some five months after the interview and a year and a half after that message was sent, Gilmore has been announced as a regular columnist for the publication that broke the defining story of her life.
Because, as she wrote on Instagram on Saturday, the "universe works in funny ways".
2. Just because the world has a million questions for Jamie Foxx about Katie Holmes doesn't mean he wants to answer them.
Oh. Well that settles it, then. Jamie Foxx isn't interested in answering your questions about Katie Holmes.
"Did you and Katie Holmes play basketball for Valentine's day?" an interviewer asked the actor on ESPN this week.
Smiling, Foxx promptly took his headphones off, walking out of the camera's view:
With stealth like that, it's little wonder they've stayed so private for so many years.
3. Jennifer Lawrence doesn't let nudity get in the way of a good meal... sorry, role.
Jennifer Lawrence is pretty relaxed about getting her gear off at work these days. While she has conceded to Page Six that she used to have "fear and insecurity" about on-screen nudity, the 27-year-old says it's no longer a factor in her decision about a role.
Speaking to the tabloid, the actor said her new-found confidence was in full-swing on the set of her upcoming thriller, Red Sparrow.
"Everybody made me feel so comfortable that I probably at a certain point started making everybody else uncomfortable," Lawrence explained. "Because I'd be like, 'I don't want the robe. I'm hot. I'm eating.' Everybody's like, 'She needs to cover up.'"
I'm... eating? Let's hope it wasn't hot.
4. Drake gave US$1 million to strangers because the world doesn't need another music video.
Drake. Drizzle. Champagne Papi. Canadian rapper Drake goes by many labels, and after the release of his latest music video he can add another: Generous AF.
The 31-year-old's was given US$996,631.90 budget by his record label in order to create a music video for his single God's Plan. Yet when the clip dropped on Friday, it was revealed he used the money for something else: good.
The video shows Drake walking the streets of Miami handing out cash and cheques to residents, schools and businesses around the Florida capital.
According to according to The Miami Herald, Drake gave $25,000 to Miami Senior High School, and E! News reported that he camped out at a local supermarket, shelling out $50,000 for strangers' groceries.
5. The Block's Bec and George have welcomed a beautiful baby boy.
Former The Block couple Bec and George Douros have welcomed a beautiful baby boy.
Announcing the news on Instagram, Bec wrote, "we are all well and completely in love."
"Lenny Anthony Douros. We welcomed our beautiful baby boy 16/02/18 at 11:14am," the interior designer captioned the lovely post-birth photo with her newborn.
For more on this story, click here.