Sofina Nikat has walked free after smothering her baby daughter Sanaya last year.
In April last year, Sofina Nikat smothered her baby daughter, Sanaya Sahib, and dumped her body in a creek. Today she walked free from court.
It's hard not to feel anger rising up when you read the court's decision. That poor little girl, her cute face smiling from the photo where she's cuddling into her mum, her baby curls caught up behind a pink headband. Sanaya is gone. No one is in jail for it. Doesn't a baby's death matter? Isn't killing an innocent, defenceless child the worst thing you can do?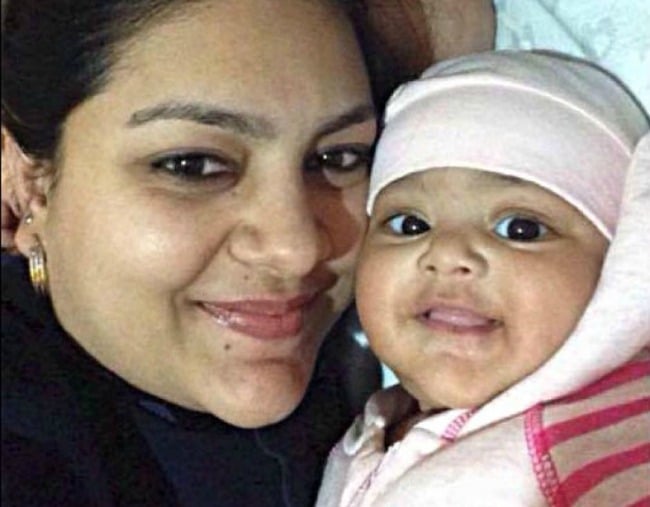 It's not surprising that the reaction on social media has been savage. People have called Nikat an "animal" and complained that she only received "a slap on the wrist". Others have said that if a father had killed his baby the same way, the reaction would have been very different.
The family of Sanaya's father Samir Sahib have labelled the sentence unfair.
"We have had no justice for her death," Zahraa Sahib told journalists outside court, AAP reports.
"I don't think it's very fair that we've lost our little girl and there's nothing for her."
Nikat made headlines when she claimed a barefoot man of African appearance who smelt of alcohol had snatched Sanaya in a park in Melbourne's Heidelberg West. But after the 15-month-old's body was found, Nikat confessed to killing her. She was charged with murder.
However, that charge was later downgraded to infanticide, following the recommendation of two psychiatrists. A report from consultant psychiatrist Yvonne Skinner found that Nikat was "disturbed" when her baby died and not of sound mind.
Infanticide, in Victoria, is a charge that only applies to women who have killed their biological child while the balance of their mind was disturbed following childbirth. The maximum sentence is five years.
Victorian Supreme Court Justice Lex Lasry said today that he accepted evidence that Nikat was depressed when she suffocated Sanaya and threw her body into Darebin Creek, and would sentence her on that basis.
Listen: This time last year we were in shock after learning Maria Lutz and her two children were gassed in their home by her husband. (Post continues after audio.)