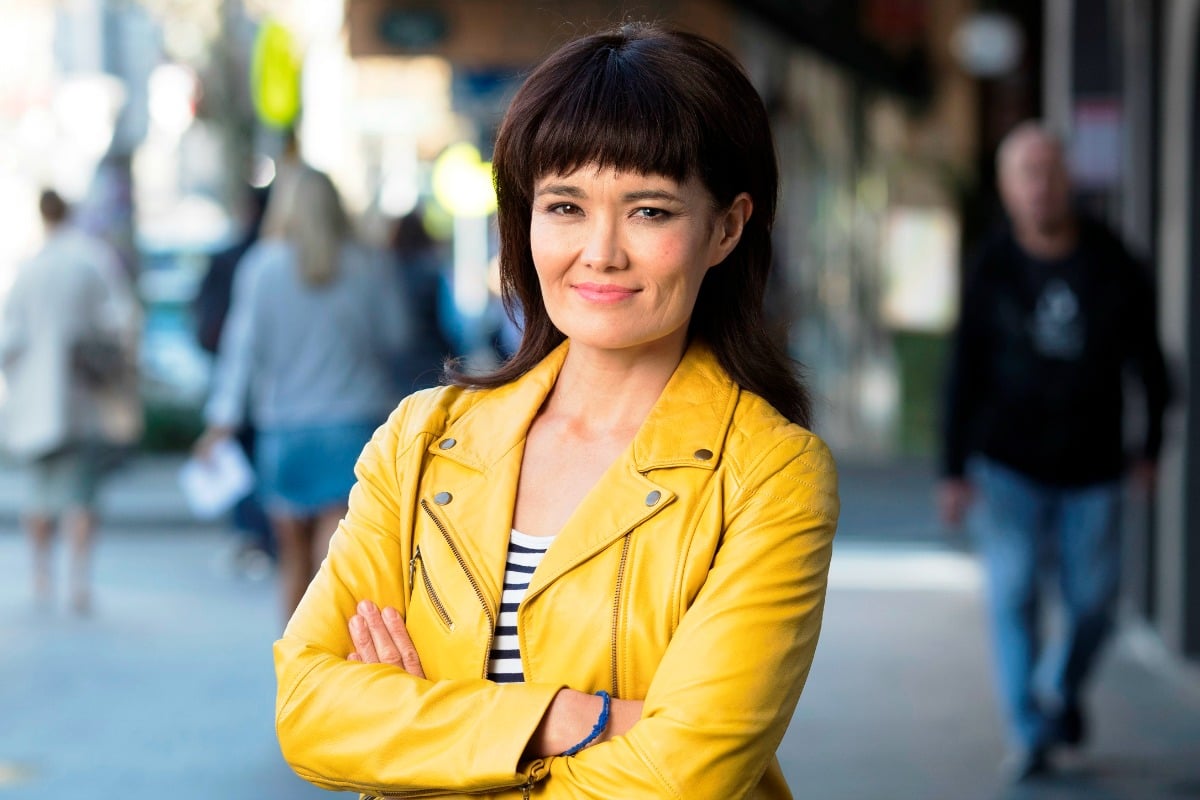 Most women will know what it feels like to be sexually harassed. All it takes is a few words – a comment muttered as you walk by, hurled from a car window or slung on social media – and that feeling floods your body. Discomfort, disgust and yes, sometimes fear.
As a television presenter on Studio 10, for Yumi Stynes it's been more than just a few words. Complete strangers would regularly write in or post comments about her looks, her body and what they'd like to do with it; some would even make violent sexual threats against her.
And sadly, her eldest children, aged 14 and 15, are learning what that feels like, too. Speaking to Mamamia, the mother of four said she's witnessed the "salacious attention" and comments they receive from "gross" men, many of whom seem completely undeterred by her presence.
Just recently, she was walking behind her girls when a man, crouching with coffee in hand, started hassling them.
"I said, really aggressively, 'What do you want?' And the guy said to me, 'Not f***ing you,'" Yumi recalled. "As if it would wound me that he wasn't sexually harassing me. 'Not f***ing you.' I was like, wow. Again, it's coming back to my appearance and my sexual currency. It's just ridiculous."
It's exchanges like this – and what they say about the place of women in our culture – that Yumi seeks to interrogate in Is Australia sexist?, a new documentary that airs on SBS tonight.
The program is based on the results of a nationwide survey commissioned by SBS and led by Macquarie University about experiences and perceptions of gender equality in Australia. With 3599 respondents, it's the largest ever undertaken on the issue in Australia.
Among the findings…
Forty per cent of 18-25 year old women have experienced sexual harassment in a public place in the last 12 months alone.
Twenty-two per cent of men believe that women should take being wolf-whistled on the street as a compliment.
Eighty-six per cent of women say they do the majority of the housework.
And yet 37 per cent of women and 52 per cent of men believe that feminism has gone 'too far'.
The show tests these statistics in real-world situations, from experiments on gender bias involving children's toys to hidden cameras capturing harassment in the workplace and catcalling on the street.
In one particularly unsettling segment, Yumi signed up for a popular dating app – a platform on which sexual harassment is rife (according to the survey, 43 per cent of women believe that online sexual harassment is a greater issue than street harassment). Using a fake name but real, faceless photos, she was bombarded with explicit messages, including one which read, "I'd love for you to sit on my face, so I can eat my way to your heart."
We like to think that Australia is the country of the 'fair go'. But is that really the case? #IsAustraliaSexist premieres tonight 8.40pm on SBS. pic.twitter.com/p53aYm0n9a

— SBS Australia (@SBS) December 4, 2018