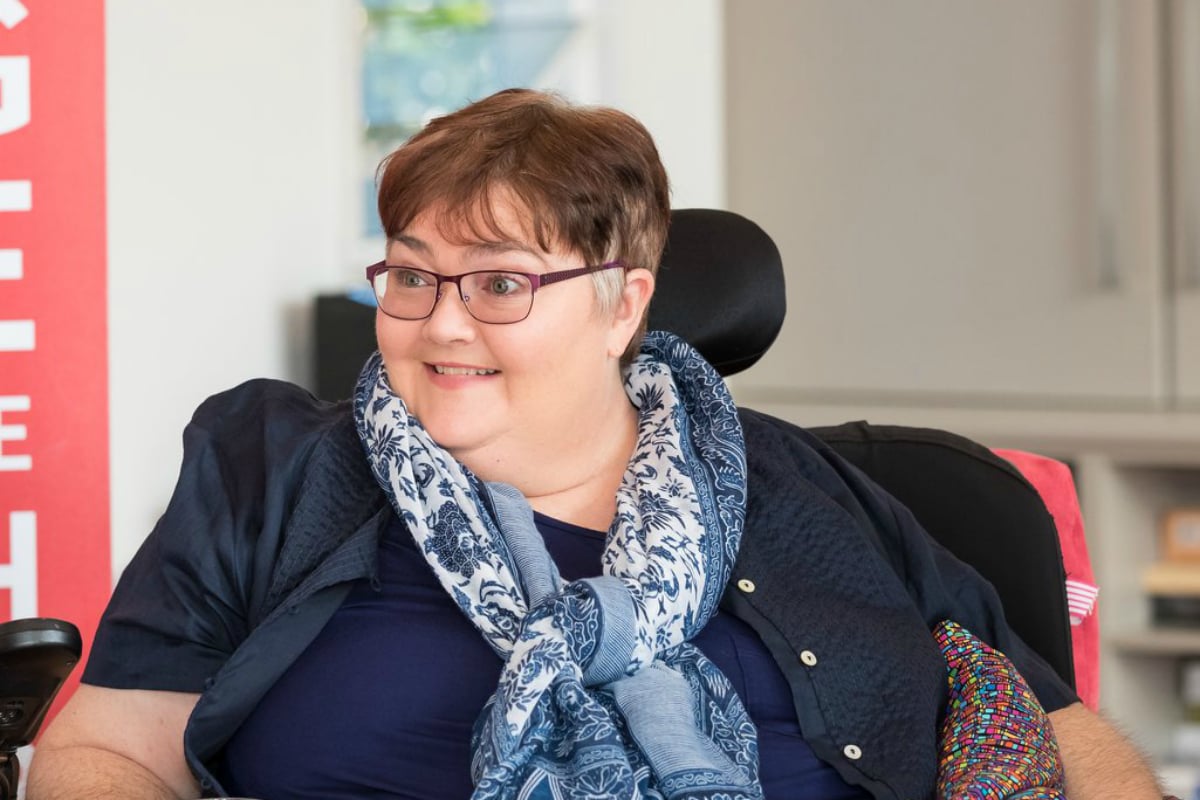 For close to two years Trina Stewart lived in what she now calls "a cell". A small, dim room in a Brisbane aged care facility, a place where most of the residents were close to twice her age, where her few moments of pleasure came from what little time she could spend outside in the garden.
Trina, a former research scientist, was just 45 at the time, prematurely trapped as a result of her high-care needs.
The nursing home placement was the only one available to her when she left hospital after experiencing a stroke in 2013.
"It was a huge adjustment. There was no one really I could talk to. The staff were constantly busy, and the other residents really weren't compos mentis [of sound mind] enough to speak with," she told Mamamia. "That was the hardest thing, that and not feeling totally isolated from the community."
Trina was among an estimated 6,200 Australians under the age of 65 with high-support needs living in aged care facilities – a number that's remained largely unchanged for the past decade. These young men and women, some of whom are in their teens, typically find themselves in nursing homes due to a lack of suitable, accessible and affordable housing.
The issue is one of the issues to be examined by The Royal Commission into the Quality and Safety of Aged Care, hearings for which started in Adelaide last week. The investigation has been welcomed by organisations including Youngcare, a not-for-profit that advocates for and provides housing/equipment solutions for young Australians with high-care needs.
"Youngcare believes every young Australian with high-care needs deserves to live in age-appropriate housing and lead a life of independence, dignity and choice," CEO Anthony Ryan said in a statement.
Mamamia's daily news podcast The Quicky will get you up to speed on what you need to know today….

In Trina's case, that independence, dignity and choice was lost in a single day.
The Queensland woman was in hospital being treated for stomach issues when her stroke happened. She noticed her left arm was difficult to control, but it wasn't until she slumped out of a wheelchair that nurses observed the characteristic paralysis down one side of her body.
Stroke is among the leading causes of death in Australia, and though Trina is grateful she received life-saving care when hers occurred, it upended her entire life and entire future.
Within a matter of months, she went from being at the forefront of research into immunotherapy for breast cancer, to needing around-the-clock assistance with basic tasks. The left side of her body was immobilised, meaning she needs a motorised wheelchair to get around, as well as help using the toilet and getting in and out of bed.
But it's the neuropathic – or nerve – pain that's "the killer", she said. The smallest movement or stretch of the muscles on the left side of her body leads to excruciating spasms – like "shards of glass" piercing her skin.
"I was such an independent person," she said.
"I feel grief, loss, frustration. Grief at the loss of my previous life, anger at what I can't do and frustration at how long it takes me to do what I can."