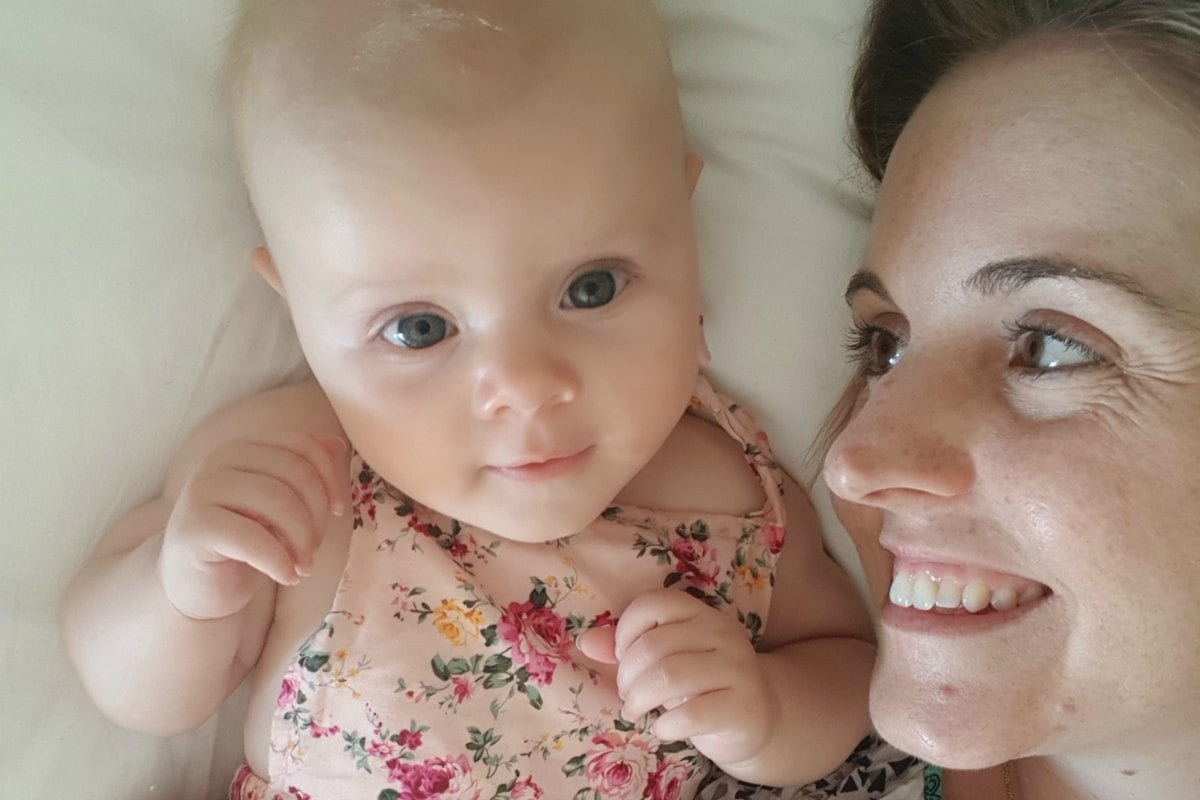 Today, I am brave.
Today, I'm taking my baby in to meet with my manager to discuss my imminent return to work.
As I stand in the elevator, my heart pounding and my stomach churning, I reflect upon life's seemingly trivial moments: beginnings and endings, old and new, firsts and lasts…
Last time I stood in this elevator I had a belly so large I could hardly see my feet. I was elated in anticipation of meeting my second child, struggling to carry my good luck balloon to the car along with the few office items I was taking on my hiatus. (Little did I know that was nothing compared to the juggling I would be doing over the next 10 months with a baby and a toilet training two-year-old who had a rather impressive way of scaling up my legs.)
I'm quickly interrupted as people pile into the elevator, rapidly discussing the day's meetings. I am jolted into focus, struck with the realisation that while I have changed so much during maternity leave, life here… hasn't.
Mamamia Out Loud host Holly Wainwright discusses why parental equality isn't just a woman's issue. Post continues after video
The elevator opens again and they burst out. My nostalgic recollections dissipate and I'm left in the elevator. Me and my baby, back against the wall and thoughts of the new firsts filling my head.
My daughter's first day at daycare… with a stranger… with germs… not being nursed to sleep.
Back to 'old me', 'new me', who even is this 'ME' anymore? I feel I haven't spoken to her in a long time. My self-doubt raises steadily as the elevator passes each floor.
In my situation, I have to go back to work as the primary earner. Though, this was a close call with the cost of having two children in care. I shimmy out of the elevator, pretending this is my floor so I can do a few more power poses in the bathroom. I watch my wide-eyed daughter stare up at me from the baby carrier. She copies my deep breathing – ahh, the power of mirror neurons.
In my anxious state this triggers my memory of the recent comments from other mum friends, empathising with my 'need' to go back to work.
"Oh, it's so hard to put her in day care…. she's just so little".
I question my decision again. Should I take their suggestion of working nights; working from home? Could I become Insta famous? No, my fierce and dishevelled two-year-old won't wear shoes. Hardly Insta-worthy.
Facebook posts on the benefits of attachment parenting that appear in my feed circle my mind. I shake it off and bundle us back in, talking to my babe – my attempt to soothe myself.