Ahead of me in the crowd was a man with a sign that read: "Even Slytherin thinks Donald Trump is too evil", and as we walked, sometimes chanting, sometimes not, up 14th Street, a mother pointed it out to her child.
"Look at that one," she prompted him.
"Oh Mummy, it's true!" the little boy replied. I looked down at him and saw he was wearing a Potter-esque ensemble. He began to shout at the top of his lungs, "Donald Trump is too evil for Slytherin." Then, after a time, he began to laugh, giddy at the notion of someone that evil.
It made me think about the first rally I remember attending, on a hot Brisbane day with my mother when I guess I was probably about four. It was a women's march too. I can't remember anything more than that, or that I loved the camaraderie, and the chanting.
Protests can be magic, when they're done right and the Women's March on Washington was no exception.
By the time I reached Union Station earlier in the day, I knew the crowd was going to meet, if not surpass, every expectation. The metro was packed. So packed, the train didn't stop at the recommended station to get to the march.
It was still early when I headed over, but the National Mall was full, and the stage where Scarlett Johansson, Madonna, America Ferrara, Ashleigh Judd, Gloria Steinem and many more spoke, was completely unreachable.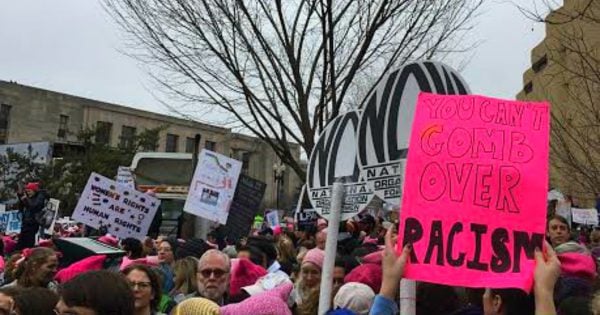 I tried to reach it anyway.
As I weaved through throngs of women, and men, I took delight in the clever, whimsical, yet serious, signs that surrounded me. People wanted to have a good time, but they were serious about their concerns.