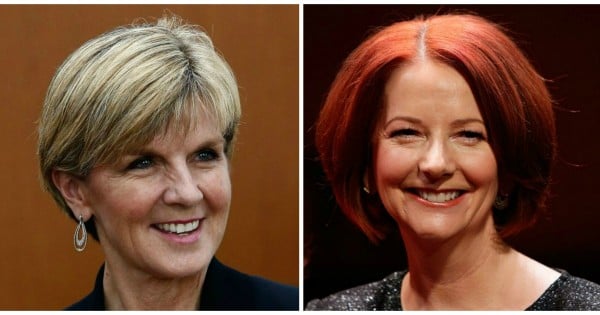 My husband was fired up.
"The CEO of the kindergarten pulled me up for telling our gorgeous daughter how pretty she looked. She even went on to suggest that I use other words such as 'clever' or 'thoughtful' instead of 'pretty', and to leave the Barbie Dolls at home, too! Come on, did you see how pretty she looked in her dress this morning?"
This story is now 15 years old. I clearly recall my response. "She did look pretty cute. And why no Barbie Dolls?"
But on mature reflection, the educator's words struck home, and started us both thinking about the conditioning we unconsciously instil in women as to "what's important".
This direct, clear and considered advice was important in shaping our thinking and dialogue with our girls throughout their formative years, and mine. One wise woman. One moment. One slightly uncomfortable disturbance in the present, for the serious hope of a better future.
In light of International Women's Day, take a look at Mamamia's Women of the Year of the last 12 months. (Post continues after video.)
Today I am pondering a recent conversation with a client who had read about the huge success of Blackmores under CEO Christine Holgate's leadership.
"It would really help Christine if she manned up a bit with the media. She comes across as a bit fluffy," he said confidently.
"Oh?" I responded in amazement. "An 83 per cent increase in profit and a $3.5B market cap – how do you think that 'manning up' would help her?"
Silence. Message received? Who knows?
It's interesting that the phrase "manned up" is equivalent to "tougher and more assertive". Even the phrase, let alone the implications of it being used in that context, presupposes that men are innately tougher and likely to be more successful.
Women in leadership roles are still breaking new ground. After the cataclysmic change wrought by the Suffragettes, the "next wave" overtly feminist movement didn't erupt till the late 1960s. In evolutionary terms, that's yesterday. The simple truth is, not many of us know how to behave as leaders.
It's not just women who have a problem. The world has changed rapidly for men, too. But women unquestionably have the thorniest end of the stick to grasp. Whether we like it or not, many people seem to care more about what Julia Gillard or Julie Bishop are wearing than their success, and their home and personal lives are analysed in a way that never happens with men.