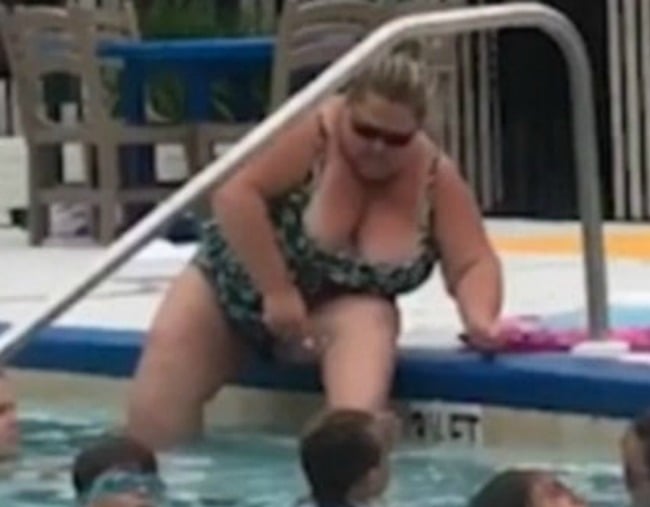 On Sunday night, a 20 second video was posted to social news and discussion site, Reddit.
The clip, initially shared in a forum titled 'Trashy,' and hours later posted in another forum named 'Public Freakout,' showed a woman shaving her legs in a hotel pool in Florida.
As children swam around her, the woman sat on the steps of the hotel pool and shaved, unknowingly being filmed by what can only be assumed to be a stranger sitting a few feet away from her.
"Oh my God, this lady is shaving in the pool," says the woman filming. "Oh, I hope she don't shave her hoo-ha next."
Immediately, Reddit users started to comment. Three days later, the highest-rated comment reads, "If public pools have taught me anything, it's that people are disgusting animals."
Woman shaves legs in Florida pool, sparks online disgust https://t.co/BPjhDcH62Y pic.twitter.com/aar3UnCqbP

— 10News WTSP (@10NewsWTSP) May 30, 2018
The commentary ranged from, "Imagine the inadvertent gulp of water that sometimes happens when you're swimming… with all the shaved hair in it," to "It's like watching a large animal in a zoo," to "What a fat disgusting piece of garbage," to "Did anyone else's penis retract inside them?"
Another comment reads, "Lets [sic] be honest here, she's just polishing a turd. She should be at the gym trying to deflate herself instead of shaving her f**king legs."
Over the next few days, the story appeared on most major news websites, on news programs, and all over social media. On Studio 10, the words 'What a grub!' appeared at the bottom of the screen while the show's hosts groaned over the top of the footage. "I need a bucket," said Denise Drysdale once she'd seen the clip. "I'm going to vomit. That makes me feel really ill."
It was a story everyone could cover, because the angle was crystal clear: Ew. This woman, no matter who she was, or why she'd decided to shave her legs in a communal swimming pool, had committed a major social transgression, and thanks to the wonders of the Internet, everyone could watch it and laugh.
It wasn't just that her hair and dead skin would be floating around the pool. It was the potential for disease. For infections. And to a similar extent, her sense of utter entitlement.