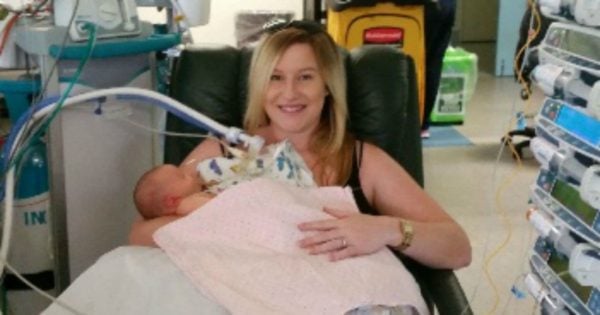 "The regret is overwhelming… Never do anything permanent, when nothing is permanent in this life."Katherine Lawson is still coming to terms with the loss of her baby girl, Imogen, who tragically died at two months old. But on top of her heartbreaking grief, the Perth mother is also burdened with haunting regret.
She decided to have her tubes tied immediately after birth.
The 28-year-old chose to have the contraceptive procedure at the same time as giving birth to her third child via caesarean section.
"Imogen was our final piece of the puzzle. Our family was complete," she told Kidspot. "I (had my tubes tied) because I was already open on the surgery table.
"That decision still haunts me as much as everything else."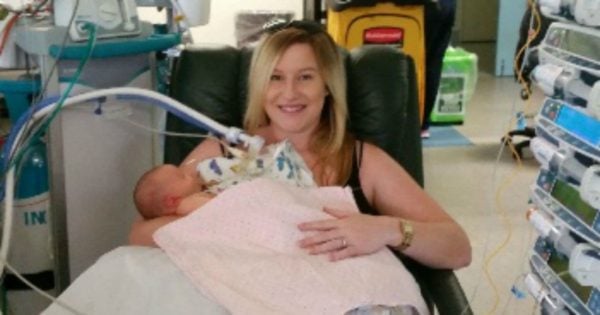 Image: GoFundMe.
Imogen was born at Perth's Stanley Hospital on February 23, after a normal, healthy 39-week pregnancy.
"She was born, we heard her cry so off to the table they took her," said Katherine. "Her scores were all perfect but then she began having a little trouble breathing."
She and her partner Ben Toomey were reportedly assured it was nothing to worry about - just a bit of fluid on her lungs - and Katherine went ahead with the tubal ligation.
But hours passed with no word about their little girl. When Ben managed to find doctors, little Imogen's lungs had collapsed, she'd been incubated, and was being wheeled away for transfer to a specialist hospital.
"I didn't even touch her. I was able to put my hand in her crib," Katherine told Kidspot.
"It dawned on me the minute I saw her in the crib when they were taking her away. I thought, 'What the f**k? What have I done?'"