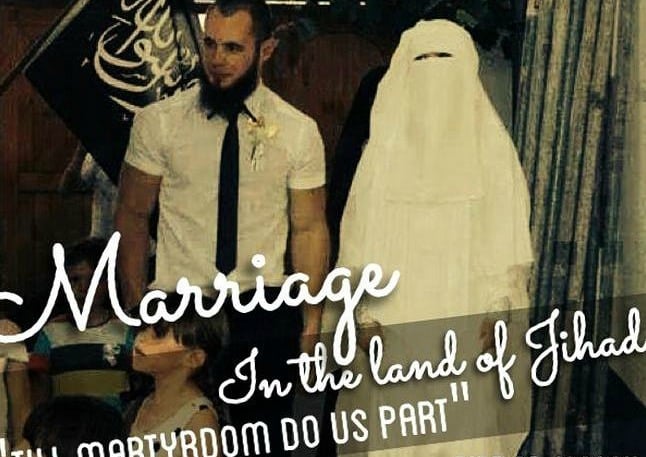 As a Melbourne teenager prepares to face court today charged over an alleged terrorist plot, Mamamia investigates the social media strategies used by ISIS to spread a rosy picture of life in the 'caliphate' — with the terrifying aim of recruiting young westerners.
On 17 February, three British schoolgirls told their parents they would be out all day, attending a wedding. Except that instead of attending a celebration, the girls — Amira Abase, 15, Kadiza Sultana,16, and Shamima Begum, 15– travelled to ISIS's stronghold in Syria.
There in Raqqa, the teenagers are now thought to be living under the control of the radical group — and are expected to be married off themselves to ISIS fighters as 'jihadi brides'.
Frighteningly, the teenagers are far from alone in their decision to flee a safe country for a war zone. They are just a handful of the hundreds of western women lured to the Middle East by ISIS' masterful social media strategy. That strategy is specifically designed to recruit young women as brides, mothers, or members of the group's all-female brigades, which patrol the streets to ensure civilian women's compliance a strict form of Islamist morality.
Related content: A father's heartbreaking message to his radicalised daughter.
Given ISIS's appalling treatment of women  — the organisation has published guidelines on "how to rape" and is involved in sex trafficking and forced marriages — it's hard to understand why any woman would want to join a group known to violently enforce extremely conservative gender roles.
But women now account for nearly one-fifth of all foreign fighters — a phenomenon attributed to ISIS recruiters being  "very predatory and very targeted in going after young people," as terror expert Professor Greg Barton from Monash University told Mamamia.
"We need to understand it's that sense of belonging, particularly at the grooming state, that makes young people vulnerable," Professor Barton said.
"What typically happens is if people are curious they go onto the internet or social media to try to figure things out… and attend a chat group or attend a physical meeting [of] Hizb ut-Tahrir … or some other kind of extremist group that's not necessarily violent ," Professor Barton said. "And the meeting may not be about violence, but it opens the violence to considering a radical alternative."
He added that young people tend to be idealists and could be attracted to "the idea of joining the counter-culture," enticed by a message of, "'we're really the good guys who are fighting a global injustice'."
Principal child psychologist at TheQuirky Kid Clinic, Kimberley O'Brien agreed that marginalised young people may "absolutely" be lured into joining ISIS on the false promise of a sense of belonging promoted online by the militant group.