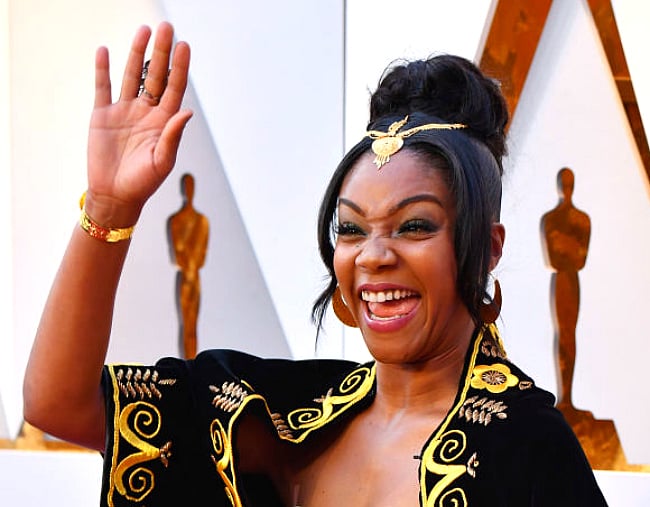 So there's this woman, her name is Tiffany Haddish.
Somehow, this writer hadn't heard of her before Monday's 90th Academy Awards. But the moment the show was over, I found myself googling the actress and comedian, and wondering how many other people were frantically doing the same.
I had to know who this wondrous woman was.
2017 was a massive year for Haddish. Thanks to her resilience, talent and one particular breakout performance, the 38-year-old from LA found herself crowned the unofficial winner of this years' Oscars.
But who is she, and why are The People obsessed with her? Here's what I found out from a deep-dive into Tiffany Haddish.
What's Tiffany Haddish been in?
Haddish got her start in showbusiness through appearances in several sitcoms and comedy specials –  Chelsea Lately, That's So Raven, My Name Is Earl, It's Always Sunny in Philadelphia, The Underground, Def Comedy Jam, Reality Bites Back and New Girl.
From 2014-2016, she held roles in television drama If Loving You Is Wrong and sitcom The Carmichael Show. Haddish also appeared in the 2016 film  Keanu with Academy Award-winner Jordan Peele and Keegan-Michael Key.
Most notably, Haddish starred as Dina in Girls Trip with Queen Latifah and Jada Pinkett-Smith.
She is widely regarded as the film's breakout star, even though she almost lost the part because she wasn't a 'big enough name.' To that, she asked her agent to tell the film's producers, "I've had a name since 1979. Okay? I was born with a name."