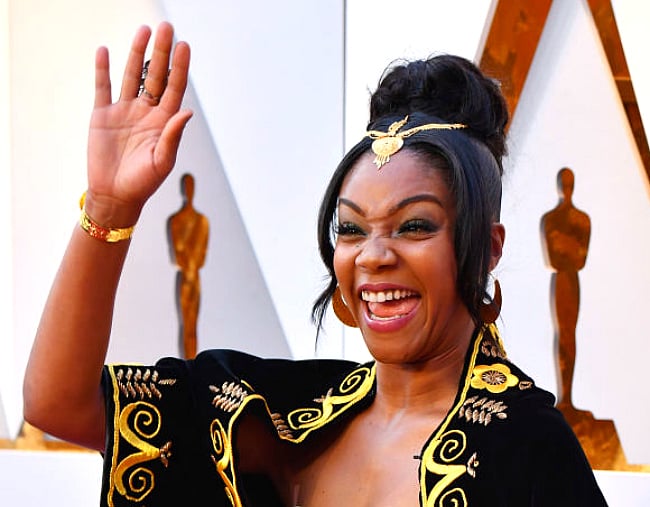 So there's this woman, her name is Tiffany Haddish.
Somehow, this writer hadn't heard of her before Monday's 90th Academy Awards. But the moment the show was over, I found myself googling the actress and comedian, and wondering how many other people were frantically doing the same.
I had to know who this wondrous woman was.
2017 was a massive year for Haddish. Thanks to her resilience, talent and one particular breakout performance, the 38-year-old from LA found herself crowned the unofficial winner of this years' Oscars.
But who is she, and why are The People obsessed with her? Here's what I found out from a deep-dive into Tiffany Haddish.
What's Tiffany Haddish been in?
Haddish got her start in showbusiness through appearances in several sitcoms and comedy specials –  Chelsea Lately, That's So Raven, My Name Is Earl, It's Always Sunny in Philadelphia, The Underground, Def Comedy Jam, Reality Bites Back and New Girl.
From 2014-2016, she held roles in television drama If Loving You Is Wrong and sitcom The Carmichael Show. Haddish also appeared in the 2016 film  Keanu with Academy Award-winner Jordan Peele and Keegan-Michael Key.
Most notably, Haddish starred as Dina in Girls Trip with Queen Latifah and Jada Pinkett-Smith.
She is widely regarded as the film's breakout star, even though she almost lost the part because she wasn't a 'big enough name.' To that, she asked her agent to tell the film's producers, "I've had a name since 1979. Okay? I was born with a name."
In November 2017, Haddish became the first black comedian to host Saturday Night Live, and she's since released her own comedy special on Showtime, Tiffany Haddish: She Ready! From the Hood to Hollywood.
In 2018, Haddish is set to feature in her first leading role in the TV series, The Last O.G. alongside Tracy Morgan, and the movie Night School with Kevin Hart.
Tiffany Haddish's upbringing.
A profile of Haddish in The Atlantic revealed the extent of her challenging upbringing.
When the comedian was nine, her stepfather tampered with the brakes on her mother's car, hoping to kill his partner and her four children, the publication reports.
Haddish asked to stay home that day and look after her younger siblings, which spared her from the horrible accident that left her mother mentally impaired. As the eldest of five children, she tried to take care of her mother and her family, but eventually Haddish and her siblings were placed in foster care.
Haddish also spent some of her 20s living out of her car in California before her career kicked off. She's succeeded despite these hardships, something she speaks about and features in her work.
"I just feel like it's important to share your experience on this earth, because you never know who's watching, who might be going through the same thing, who might feel devastated," she told IndieWire in 2017.
"Then you share your story and they're like, 'Oh wow, if you can survive that, then I definitely can survive this. If you can still smile about that, well then I don't know what I'm feeling sad about.'"
Tiffany Haddish at the 2018 Oscars.
And now, for the Haddish moments that stole our hearts at this years' Oscars.
The beautiful story behind Tiffany's red carpet dress.
You can listen to Tiffany Haddish's interview with Ryan Seacreast below. Post continues after video.
Haddish first walked the 2018 Oscars red carpet in a traditional African dress with gold embroidery and a black cape jacket.
It was a beautiful dress, but there was also some personal significance behind Haddish's choice.
"My father passed away this passed year, he's from [the North Eastern African country of] Eritrea and he always told me one day you're going to end up at the Oscars and when you go, you have to honour your people," she told E News' Ryan Seacrest on the red carpet.
"I'm wearing an Eritrean, authentic princess dress, and I'm proud of it!"
When Tiffany met Meryl Streep.
Watch the brilliant moment Tiffany Haddish jumped the barrier to meet Meryl Streep below. Post continues after video.
Then came the moment we realised Haddish is both a dead set legend, and perhaps our long-lost cousin.
Watching her hitch up her gown and climb over the rope to position herself in Meryl Streep's path is a truly joycous experience.
Why the internet thinks Tiffany and Maya Rudolph should host the next Oscars.
Watch their hilarious Oscars presentation below. Post continues after video.
Yes, Jimmy Kimmel hosted this years' Oscars, but if The People get their way, next year we could be seeing Haddish and fellow SNL alum Maya Rudolph up there in 2019.
The pair walked onto the Oscars stage sans heels to present the Academy Awards for Short Subject and Live Action Short Film, and it only got better from there.
Oh, and Tiffany wore that lovely white dress for the third time.
Watch Tiffany Haddish spit the truth about wearing a bloody expensive dress more than once below. Post continues after video.
In her opening SNL monologue in 2017, Haddish swore she would wear her white Alexander McQueen dress again. Because real folk can't afford not to, right?
"I wore this dress on the red carpet for Girls Trip and my whole team told me, 'Tiffany you can't wear that dress on SNL, you already wore it, it's taboo'," she said on SNL.
"I don't give a damn about no taboo, this dress cost me a lot of money, this dress cost more than my mortgage, it's an Alexander McQueen, OK? It's a $4000 dress, I'mma wear this dress multiple times."
And so she did, bringing it out for a third time for the aforementioned presenting at the Oscars. Yes, the cost per wear on this dress is still eye-watering. But it's good she's trying.
Now we're all caught up on who Haddish is and why she's so great, here's hoping to many more brilliant moments from her in 2018.
You rock Tiffany. Never change.
Speaking of the Oscars, we deep dive on the brilliant film making history at the Oscars this year, on our pop culture podcast below.
Shout out to all Dads!
Here at Mamamia we are always looking for ways to make Mamamia even better. Dads, we need you to help us do that by filling out this quick 15 min survey for us. Click the button below for your say.