In 2015, 31-year-old Elizabeth Holmes was declared the next Steve Jobs.
In the same year, the tech entrepreneur was named one of TIME's Most Influential People in the World, one of Forbes' Most Powerful Women, and earned the title of Glamour magazine's Woman of the Year.
Twelve months later, Holmes would earn herself just one title: Fraud.
At school, the blonde-haired, blue-eyed student was renowned for being tirelessly optimistic. She had a "particularly warm smile" and was known to be exceptionally studious.
Holmes was accepted into Stanford University and named a President's Scholar, which provided her an opportunity to fund her own research project. Specialising in chemical engineering, Holmes was motivated by entrepreneurial ambitions, developing a wearable drug-delivery patch in 2003.
In the same year, Holmes founded a health technology company titled Theranos – a combination of the two words 'therapy' and 'diagnosis'.
The company promised to revolutionise blood tests, motivated by Holmes' own fear of needles.
Simply, the technology offered to make blood testing cheaper, more convenient and more accessible, using only a very small amount of blood from the patient obtained by a simple finger prick.
When Holmes pitched the idea to her chemical engineering professor, Channing Robertson, he immediately asked why this was something she wanted to do.
He told Fortune magazine in 2014, "She said, 'Because systems like this could completely revolutionise how effective health care is delivered… I don't want to make an incremental change in some technology in my life. I want to create a whole new technology, and one that is aimed at helping humanity at all levels regardless of geography or ethnicity or age or gender.'"
Robertson was sold. "I realised that I could have just as well been looking into the eyes of a Steve Jobs or a Bill Gates," he recalled.
Holmes drew great inspiration from her idol, the founder of Apple, Steve Jobs. She even endeavoured to dress like him, adopting a uniform that included a black turtleneck with a black vest. Her office was decorated with the furniture Jobs used, and, much like him, she refused to take any holidays.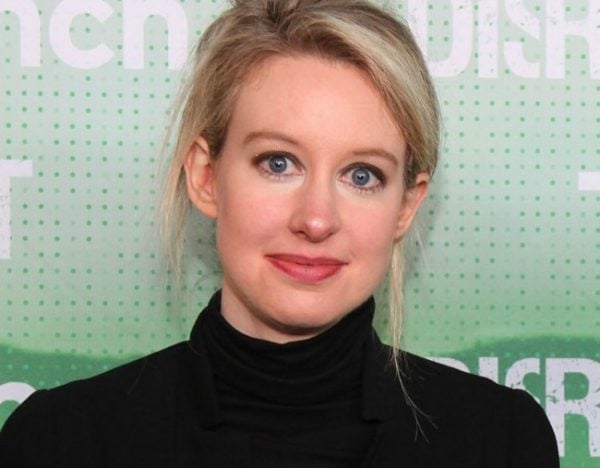 She also spoke in exciting grand visions rather than in granular detail about how the blood test actually worked.
In a presentation to her team at Theranos headquarters in California, Holmes declared Edison, the name for the innovative test, "the most important thing humanity ever built."
And everyone believed her.
Investors and partners eagerly signed on, including Rupert Murdoch who poured $125 million into the company, along with Walgreens and Safeway. Within two years, Theranos was valued at US$9 billion, and Holmes herself was understood to be worth approximately half of that. At the time, Theranos was worth more than Uber and Spotify. Holmes gave her own TED talk, appeared on the covers of Fortune and Forbes magazine, and sat on panels alongside Bill Clinton.
But the bigger the company got, the louder the questions became. Had this technology been peer-reviewed? What evidence did anyone actually have that it worked? The entire business was shrouded in secrecy - were they trying to hide something?
By October 2015, John Carreyrou, a reporter working for the Wall Street Journal, had a pretty strong hunch something wasn't adding up. He published an investigation stipulating that Theranos' Edison could not provide accurate results, and the samples were in fact being run through traditional blood-testing machines.
That's when things started to change.
Holmes was in the midst of a PR nightmare, and made an appearance on CNBC's Mad Money to defend her product. "This is what happens when you work to change things," she said. "First they think you're crazy, then they fight you, and then all of a sudden you change the world."
But scientists were hyperaware that Holmes' product, which she was fond of calling "the iPod of health care," was not capable of doing what it promised. Even worse, the tests were providing inaccurate and potentially dangerous diagnoses.
The subject of Holmes' fraudulence went from the pages of the Wall Street Journal to the desks of federal prosecutors who began conducting their own criminal investigations. If Holmes had truly misled investors and the government about the potential of her technology - this was serious.
In July 2016, only 12 months after Holmes had been dubbed one of the world's most powerful leaders, the 33-year-old was banned from the lab-testing industry for two years. Her labs and wellness centres, funded by Walgreens, were shut down.
Theranos faced several lawsuits from investors and partners, and reached a number of settlements. In March 2018, Holmes was charged with "massive fraud" by the SEC, fined $US500,000 and forced to return 18.9 million shares of stock. She has been banned from serving as the director or officer of a company for a decade.
Carreyrou, who has now written a book titled Bad Blood: Secrets and Lies in a Silicon Valley Startup, concluded that "the company was, in effect, a sham," led by Holmes' own hubris.
Today, Holmes' future is uncertain. She might face charges, although her agreement to pay a fine, refund shares and stand down from any public company could go some way in avoiding them.
A film is in the works, based on Carreyrou's book, with actress Jennifer Lawrence reportedly playing Holmes.
The story of Elizabeth Holmes, a billionaire before her 31st birthday, an entrepreneur who sold false hope, could have been plucked from the pages of an ancient Greek tragedy.
And centuries on, the story of a meteoric rise, followed by a rapid fall, is still just as intriguing. The difference is, that today it's not just men brought down by their own hubris and ambition.
It's women too.