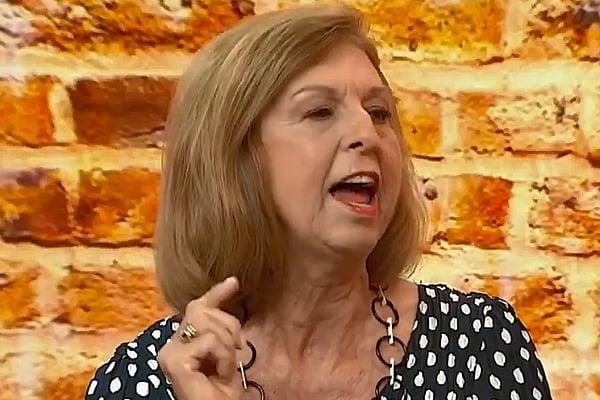 The name Bettina Arndt was once synonymous with sex. In the 1970s, the then-sex therapist was famous for dishing out unabashed advice via the media, touching on anything from foreplay to the female orgasm.
But these days, Bettina has a new headline-baiting passion project: men's rights activism.
She devotes her time to 'social commentary' — YouTube videos, blog and social media posts, media appearances, all geared toward highlighting what she calls "the anti-male feminist agenda". Whether she's railing against the #metoo movement or accusing the media of skewing domestic violence statistics to vilify men (more on that later), at the core of her activism is her belief that feminism has simply gone too far.
Watch: Bettina Arndt on being attacked by "desperate" feminists. (Post continues below.)

It's because of some of those views, that more than 33,000 people have this week signed a Change.org petition calling for Arndt to be removed as a Member of the Order of Australia.
Arndt was awarded the honour on January 26, in part, due to her services for "gender equity through advocacy for men".
The petition, however, argues that Arndt's 'men's rights' ideology is "extremist" and has "has no place amongst our national awards".
The petitioners aren't alone in their criticism of Arndt's honour.
On Wednesday, Victorian Attorney-General Jill Hennessy confirmed that she wrote a letter to Governor-General David Hurley requesting that he overturn the decision.
"Taking into account Ms Arndt's well-documented opinions, public commentary and media appearances — which include sympathising with a convicted paedophile and blaming and shaming victims — this award is an insult to victims of sexual abuse and to those of us who work hard every day to prevent it," she wrote.
So how did we get here? How did Bettina Arndt go from empowering women to becoming one of Australia's most controversial social commentators? And what exactly did she do that has people so outraged?
Let's take a look.
From sex therapist to MRA.
After studying psychology at university in the 1970s, sex therapist Bettina Arndt rose to prominence courtesy of her role as editor of Forum: The Australian Journal of Interpersonal Relations. Despite the stuffy title, the magazine was somewhat of a bible for sexually liberated Aussies, covering topics from tantric sex to the issue of 'jealousy among swingers'.