The streets of Hollywood seem to be paved with the ghosts of old teen heartthrobs – fresh-faced young dreamboats who used to adorn every corner of our teenage bedroom walls.
And then, just as quickly as they came and rocked our young adult world, they disappeared.
Well, we've decided to dig deep to uncover the whereabouts of some of our teenage celebrity boyfriends, because frankly, it's just rude that they left without even saying anything.
Skeet Ulrich
If you were a teen in the '90s, chances are you had a little bit of a crush on Skeet Ulrich. You know, the dark, brooding guy from movies like Scream and The Craft.
Well, good news Skeeter Girls (we just totally made that, and honestly, it's kind of surprising it wasn't already a thing) – you can now see him every single week on Riverdale.
After a few parts here and there, Skeet, 48, joined the cast of the teen drama last year, playing Cole Sprouse's troubled dad in the show.
Also, Cole is kind of this generation's Skeet, so it seems only fitting. Circle of life, my friends.
Jonathan Taylor Thomas
There was no doubt in my 14-year-old mind that I was going to grow up and marry Jonathan Taylor Thomas, better known as JTT.
Obviously that didn't happen, and he pretty much made like a magician and disappeared after leaving Home Improvement.
Weirdly, he doesn't even have a presence on social media. If it wasn't for all the old posters, I'd wonder if I just made him up…
But it seems as though Jonathan's decision to completely bow out of the spotlight was premeditated.
"I'd been going nonstop since I was eight years old. I wanted to go to school, to travel and have a bit of a break," the 36-year-old told People back in 2013.
After studying at Harvard, Columbia and St. Andrew's University in Scotland, Jonathan reunited with Tim Allen with a guest spot on his show, Last Man Standing in 2013 and again in 2015. He's now focused on working behind the camera as a writer and director.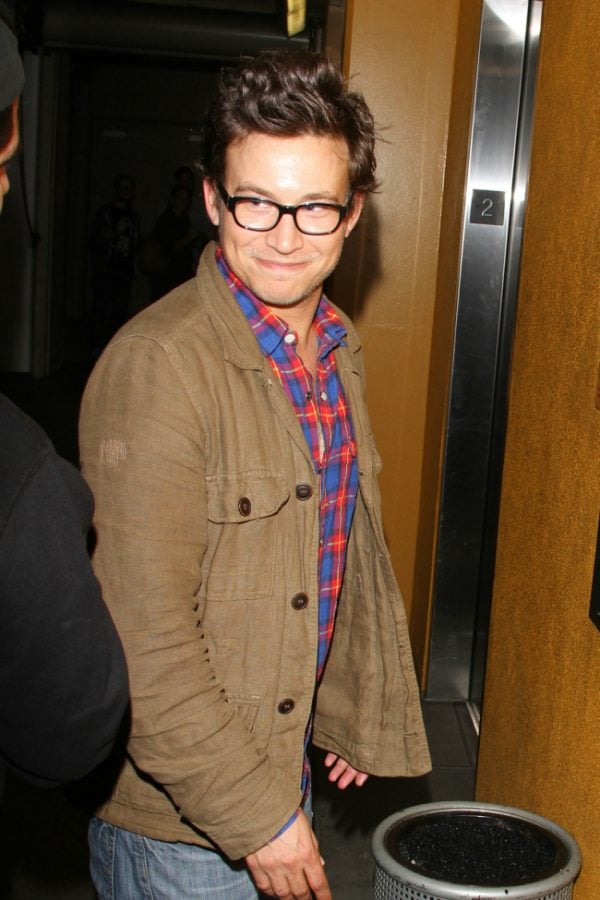 Jesse McCartney
Believe it or not, Jesse McCartney is still out there making music, and yes, he still has the blonde highlights in his hair.
The 31-year-old released his latest single, "Better With You", in March, after a four-year hiatus, and his new album is due out sometime this year.
Jesse also had a guest role on Fear the Walking Dead back in 2016, so he's definitely still around. Thank God for that.
Andrew Keegan
I actually have a personal account of what happened to Andrew Keegan...
He started a hippie-style cult called Full Circle, which was being run out of LA's Venice Beach.
Its headquarters was directly across the road from my old office, and I used to see him almost everyday when I lived in Los Angeles.
I almost asked him to parallel park my car for me one day. I'm usually an excellent parallel parker, but on this particular day, I was really struggling and he was sitting on the footpath just watching me... Eventually I got my car into the spot, no divine spiritual intervention needed.
"Synchronicity. Time. That's what it's all about. Whatever, the past, some other time. It's a circle; in the centre is now. That's what it's about," the 39-year-old told Vice of his church back in 2014, and to be honest, we still don't actually know what it's about.
Anyway, the group ran into some financial problems last year, and were forced to cease operation in June.
Aaron Carter
Aaron Carter has had a, uh, interesting life since he won us over with his bubblegum pop music in the '90s.
The little brother of Backstreet Boys star Nick Carter was arrested for a DUI last year, checked himself into rehab last September, professed his ongoing undying love for his childhood girlfriend Hilary Duff, came out as bisexual and revealed he had an eating disorder. Are we missing anything? Probably.
Speaking to People in February, Aaron, 30, said he "hit a rock bottom", but is now doing a whole lot better.
"I've seen a huge change in myself and my attitude and my demeanour and my morale. It's beautiful," he said.
Chad Michael Murray
Chad Michael Murray was everywhere back when One Tree Hill was on TV, and then... he just wasn't.
Following on from his role as resident heartthrob on the popular teens series, Chad, 36, married actress Sarah Roemer in 2015. The couple have two kids together.
He also went on to star in the Marvel TV series, Agent Carter up until 2016.
More recently, Chad has randomly co-authored a novel called American Drifter alongside actress Heather Graham. The thriller was released in November.
He also seems to spend a lot of time wearing T-shirts with his face on them from back in his glory days, but we're not here to judge.
Rider Strong
After winning us over as Shawn in Boy Meets World, Rider Strong - he with the adorable floppy hair - took a step back from the spotlight after the series ended in 2000.
He did reprise his role in the TV series, Girl Meets World, but Rider, 38, prefers to stay behind the scenes now, having made a series of award-winning short films with his equally cute brother, Shiloh Strong.
After studying English literature at Columbia University, he now runs a podcast all about books called Literary Disco with two of his friends.
Luke Perry
Riverdale is starting to look like the place where old teen heartthrobs come to die.
After making girls swoon as bad boy Dylan McKay in Beverly Hills, 90210, Luke struggled to recreate the same level of success he'd had in the '90s, and basically went on to appear in a ton of guest roles.
That is, until last year, when the 51-year-old signed on as Archie Andrews' reliable dad Fred in the hit teen series, Riverdale.
Good to have you and your furrowed eyebrows back, Luke.
Jason Priestley
Naturally, we couldn't include Luke Perry on this list without his clean-cut counterpart, Jason Priestley.
Jason, 48, won us over as good guy Brandon Walsh in Beverly Hills, 90210 - definitely the sort of guy you could take home to mum.
Since then, he's worked steadily both in front of and also behind the camera as a director.
He's also heavily involved in car racing, but was seriously injured in a crash in 2002.
Having since made a full recovery, Jason wrote a book in 2014, Jason Priestley: A Memoir. Humble.
Devon Sawa
Devon Sawa was responsible for the sexual awakening of many teenage girls in the '90s.
Who can forget when he manifested at the end of Casper for a slow dance with Christina Ricci and asked her, "Can I keep you?" No, Devon - can we keep you. Preferably locked in a basement.
After years of starring in back-to-back teen films, Devon, 39, did a creepy Eminem music video and then kind of disappeared.
Recently, he's been acting steadily, and is the proud owner of a hilarious Twitter account, but Devon admits he once considered quitting Hollywood for good.
"At 25 years old, I stepped away from the business for five years and most of the time didn't know whether I was going to come back or not," he told Us Weekly in September last year.
Devon says he ultimately came back "by accident".
"Somebody at my agency didn't get the memo that I quit and sent me an audition and I put myself on tape and that was it," he added.
Have we missed anyone? Who was your teenage celebrity crush?