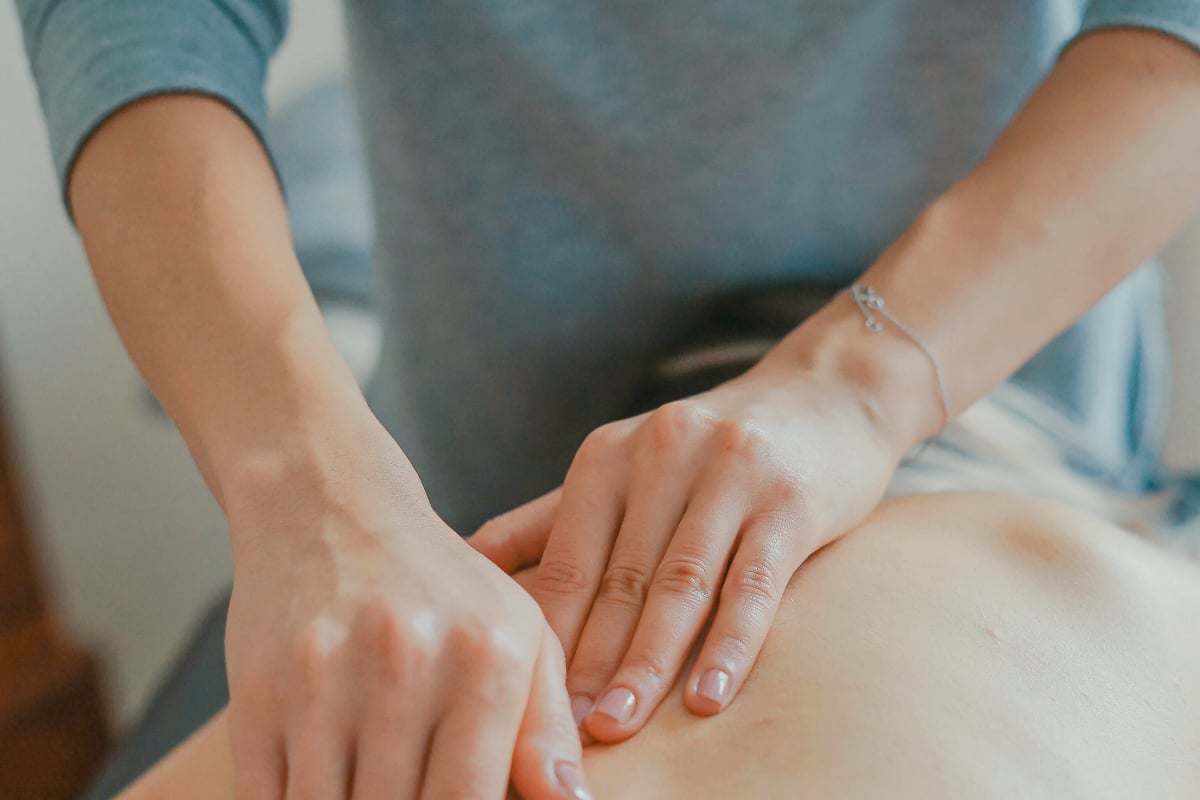 There's nothing better than having your creaky muscles eased with a great massage, is there?
Only problem is: there are so many different types of massages to choose from. Swedish, hot stone, reflexology, lymphatic drainage… how are you meant to choose the right massage for your needs?
One of the most useful styles of massage available is remedial massage.
Remedial massage, otherwise known as medical massage or sports massage, is somewhat misunderstood, but performed by a qualified remedial massage therapist, it can help with a whole host of injuries and ailments.
From relieving chronic pain and releasing tension to increasing mobility and flushing your muscles, the list of remedial massage benefits is a long one.
For more information, we asked two experts to explain: what is remedial massage, who remedial massage can help, remedial massage health fund rebates and how to find a good remedial massage therapist.
Before we get into all things remedial massage, check out PT Sam Wood's banger office workout tips to improve your posture at work. Post continues after video.
What is remedial massage?
The short version?
"Remedial massage is used to aid treatment of medical conditions, for someone with an identifiable medical problem," South Australian Sports Medicine Centre physiotherapist Dr Andrew Clarkson told Mamamia.
Different to other forms of relaxation massage, remedial massage is performed by a trained remedial massage therapist and can be classified as a therapeutic, or healing, massage.
"Remedial massage is used for the prevention and management of injuries, including soft tissue injuries, and can be performed in guidance with other health professionals as a part of a patient's treatment plan," John Stamoulos, founder of Somatic Massage Therapy Services and SPORTSMED SA's Senior Remedial and Sports Massage Therapist of 25 years, told Mamamia.
"Foremost, it's a therapeutic massage, but there can be a relaxation element to it, too."
Remedial massage benefits:
When people think of remedial massage, many think of AFL players having their legs rubbed down on the side of the field.
Yes, remedial massage is widely used in the treatment and prevention of sports injuries, but there are so many other benefits to this form of massage.
According to Stamoulos and Dr Clarkson, remedial massage benefits include, but aren't limited to:
Decreasing pain and alleviating chronic pain conditions.
Prevention and management of sports and soft tissue injuries.
Releasing tension and tightness in the muscles.
Increase blood flow and oxygen to treatment area.
Faster recovery time for athletes or people who train rigorously.
Flushing chemicals out the body that cause muscles to tighten.
Breaking down and healing of scar tissue post-surgical operation.
Assisting the flow or draining of lymph fluid in patients with cancer and/or lymphedema, which can decrease swelling in the treatment area.
Can improve problems such as headaches, abdominal pain, low back pain and sciatic pain.
Can be used in treatment for muscle cramps, whiplash, muscular atrophy, fibrositis, spondylitis, and arthritis.
Mia Freedman spoke to Aussie comedian Wil Anderson about the reality of living with chronic pain in an episode of No Filter, post continues after audio.
Difference between remedial massage and other types of massages.
It's easy to confuse remedial massage with the types of massages offered at spas, beauticians or wellness clinics, which are primarily used for relaxation.
The biggest difference between remedial massage and other styles of massage is the training needed to become qualified and certified.
"It's the training. Remedial massage isn't a weekend course, it's a detailed, lengthy training process – that's why remedial massage is sets itself apart from other forms of massage. Massage therapists are well respected and well regarded in the medical industry," Dr Clarkson said.