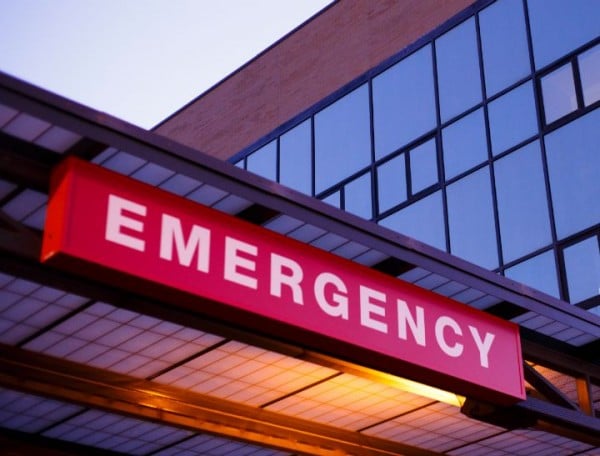 My 83-year-old mother is in hospital. I sat in the front seat of the ambulance, Mum's handbag and a pair of slippers in my lap. This is it, I thought. This is the day it will happen. This is the day my mother will die.
What did we talk about when I saw her yesterday? Did we argue? Oh yeah, she'd told me to make sure I wore a greeny-browny silk scarf to the gig I was doing that night, and I'd suggested back that she stop telling me how to dress given I was over 50 now. Then she'd said that at my age I should always wear a nice scarf because your neck will always give you away no matter how well you take care of yourself.
Like Debrief Daily on Facebook. 
The ambulance driver tried making conversation with me but all I could hear was the other ambo in the back with Mum.
'Can you hear me, love?' he asks her.
'Does she speak English?' he asks me.
'Yes. Very well.' I tell him. 'Her English is better than mine. She corrects my grammar and she reads voraciously and she was an English teacher and she's very smart and independent and…'
It must have been her Italian surname.
'We're taking you to the hospital now love. Your daughter's here.'
'Mum? I've got your bag.' Like she cares about her bag.
I'd expected to sit in the back of the ambulance with her. You know, holding her hand reassuringly. But they don't let you do that in real life apparently. So I'm sitting up front and the driver is asking me something again but I can't make out what she's saying.
This is one bumpy, noisy and fast ride. I realise I've brought the wrong slippers; these ones 'have had it' she reckons.
When I'd gone to Mum's yesterday to pick her up for our daily walk in the Botanic Gardens she'd said she felt too tired to walk. I'd tried to cajole her into getting dressed. Sometimes one of us is too tired or too low, so one usually convinces the other to snap out of it.
'Everything always feels better after a walk,' I'd said to her yesterday. 'Come on, the blossoms out. Get off your bum.'
I spend the next 12 hours with Mum in the Emergency department of a large regional hospital. At one point, about 3 hours into the wait for triage, she and two other elderly lady-ducks are all lined up on their trolleys against the wall in the corridor like, well, ducks, all flying high with delirium.
Mum tells me to put a clean singlet on my sister who'd be in her late 40s, if she were still alive that is. I offer some water to another woman, who takes the paper cup in her paper-white hand and calls me Patrick.
My mother is staring up at me and I have never seen this expression in her eyes before; startled, unrecognising, blazing.
'Does she know who I am?' I ask the ambo who's been waiting with me all this time.
'Love?' he almost shouts at her. But then it's so noisy in Emergency - all the beeping and buzzing, talking and dashing about that maybe she just couldn't hear me earlier when I'd been holding her hand and stroking her feathery silver hair.