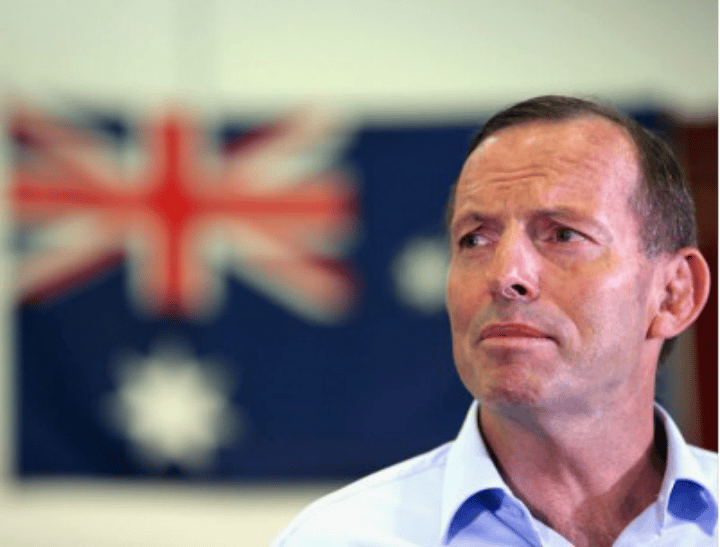 It's been 18 months since Tony Abbott became PM. It's also 18 months since he named himself Minister for Women.
Last year Tony Abbott said Australia had "smashed just about every glass ceiling" there was for women: "Anyone who is in Australia has won the lottery of life, and if you look at our country and the deal that it gives to women, it is obviously pretty good".
On International Women's Day, we have a look at how women are faring under Tony Abbott's leadership by subjecting his work as Minister for Women to a quick report card.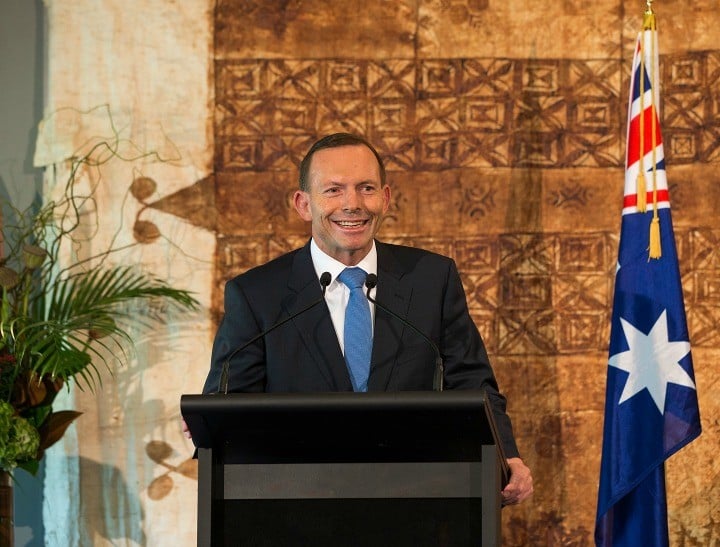 1. Prioritising and attention to detail.
Yesterday, Tony Abbott released a video on YouTube highlighting his Government's achievements over the past 18 months. He didn't mention the word women once. Not once. No mention of family violence. No mention of gender equality. No women/woman/wommyn. Nothing.
It's more than a little awkward that in listing his achievements and outlining the government plans, he forgot his own portfolio.
This was not strictly surprising given that in December, when asked about the greatest achievement in his portfolio he said, "Well, you know, it's very important to do the right thing by families and households and, as many of us know, women are particularly focused on the household budget and the repeal of the carbon tax means a $550-a-year benefit for the average family."
For more: Tony Abbott, if that's your biggest achievement, then you need to resign.
Well, $550 means very little when women are earning $1M less than men over a lifetime and one in three women are subject to physical assault. When more than half of elderly single women are living below the poverty line. When indigenous women are 23 times more likely to be imprisoned than non-indigenous women – and are the fastest growing prison population.
The Prime Minister appears to be barely across the challenges of his portfolio – and doesn't mention women in his own report to the nation.
Grade: FAIL.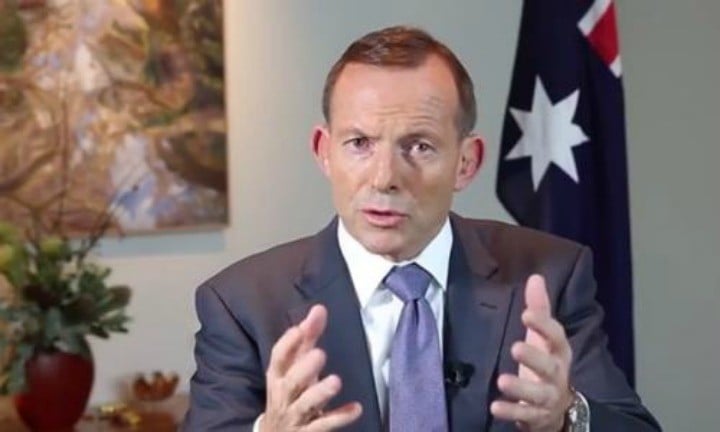 2. Commitment and delivering outcomes.
When it was first announced, Tony Abbott's PPL scheme seemed too good to be true for women. Females earning $150,000 a year would have received a payment of $75,000. In April last year, the PM downgraded it to up to $50,000, instead of $75,000, over six months for women having a baby.
Now it's been scrapped – dumped without giving any detail about any replacement policy or budget allocation around childcare. It is just…..gone.
More: Mia: "I gave Tony Abbott the benefit of the doubt on women. I was wrong."
Paid parental leave, while extremely helpful only benefits a family for the first 6 months of a child's life– arguably, the cheapest in terms of raising them. But in addition to ditching the PPL policy, the Government has also pulled previously committed money out of child care.A huge signature policy gone without a more valuable or timely alternative in its place?
Grade: FAIL.

3. Plays well with others.
Tony Abbott initially appointed only one woman to his Cabinet. He later promoted Sussan Ley from the outer minister to the cabinet position of Health Minister and appointed two backbenchers, Karen Andrews and Kelly O'Dwyer, as parliamentary secretaries.
The PM has said that he is "disappointed" that there aren't more women in power. "Nevertheless there are some very good and talented women knocking on the door of the cabinet," he said, while keeping it firmly shut.
Another time, asked about this under-representation of women in Australian politics, he answered, "there's an assumption that this is a bad thing."
Er, yes. When women make up 52% of the population and your ministry is only 8% women, that's a bad thing. A very bad thing.
Grade: FAIL.

4. Identifies opportunities and offers solutions.
At the moment, two women are dying every week in this country at the hands of their partner. 17 women have already been killed in 2015. Never before have the words 'national crisis' seemed so fitting.
Yet last week, in the lead up to International Women's Day, Tony sent his assistant minister, Michaelia Cash (rather than fronting up himself) to announce that the Australian Government would join with state and territory governments to deliver a $30 million jointly-funded 'national awareness campaign' about domestic violence.
More: Tony Abbott wants to raise 'awareness' while cutting family violence services.
While well and good to keep 'awareness raising' and 'discussing' the issue, currently 1 in 3 Australian women have experienced physical violence since the age of 15. A whopping 17 per cent of Australian women have experienced violence by a current or previous partner in their lifetime. Yet only 20 per cent of Australian women who have experienced current partner violence have reported it to police.
While Tony Abbott has given lip service to this issue, he has actively removed funding from this sector. We are past the point of raising awareness. We need action that will actually benefit the women and children who are abused and attacked and stalked and murdered every single day by men who claim to love them.They deserve more. We all do.
Grade: FAIL. 

5. Numerical awareness.
The numbers associated with Tony Abbott's reign as Women's Minister tell a very sad story about the state of gender equality in this country.
During his time in office the pay gap between men and women has increased and is now almost 20 per cent – the highest it has been. Only three percent of companies in the top 200 companies in this country are led by women. Figures released last year show 60 per cent of professional Australian men believe women have equal opportunities at work and 20 per cent think women simply don't have enough ambition. Nearly 40 per cent of employers in Australia have also said they prefer employing men to women.
It's a hostile work and cultural environment for women. But then there's Tony Abbott's Budget. There are always going to be losers in the Budget, but it's rare for the losers to be consistently vulnerable and disadvantaged women.
The cuts to the single parents tax benefit, National Rental Affordability Scheme (worth $4.5 billion over ten years), cuts of $43 million over 4 years to the legal assistance sector have made it harder for survivors of domestic violence to escape dangerous relationships.
Life will be tougher for homeless women as the Government has only extended funding for The National Partnership Agreement on Homelessness (NPAH) for another year after it expires on the 30th of June 2015. This funding, worth $115 million per annum, is normally renewed every five years. Organisations helping survivors of domestic violence find safe and affordable accommodation, faces an uncertain future. So do the women relying on them.
University course de-regulation and fee increase disproportionally affect women. Women more often work in the lower-paid community sector and take time off to have children. Greater HECS debt would have been a deterrent to women seeking higher qualifications.
The numbers tell a story. And that story is…
Grade: FAIL.

6. Presentation skills
For a guy who in the past two years said one of his party's female candidates had "sex appeal", told a group of young netball players, "a bit of body contact never hurt anyone" and then described himself as "the guy with the not bad looking daughters," on national television, this was always going to be a big task.
But the truth is, when it comes to being Prime Minister for women, he's stumbled over the lowest of bars. He didn't even turn up.
When Q&A dedicated an entire program to domestic violence, the Prime Minister for Women wasn't there. When the Press Club held an International Women's Day Forum, the Prime Minister refused to show up.
For more: Where was Tony Abbott last night?
When you're the Minister responsible for anything, the first thing you do is show up.
Even if he wasn't across his portfolio, even if he hasn't prioritised anything to do with women, even if he's actively removed funds from women's services: JUST SHOW UP.
Grade: FAIL.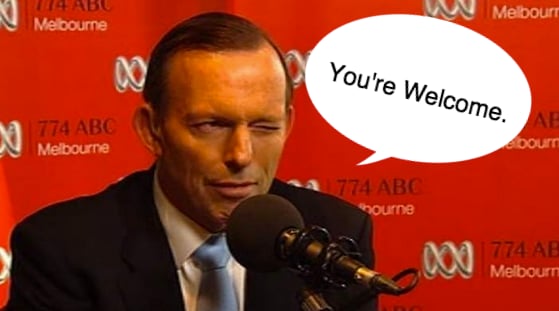 What do you think? How has Tony Abbott stacked up as Prime Minister for Women?