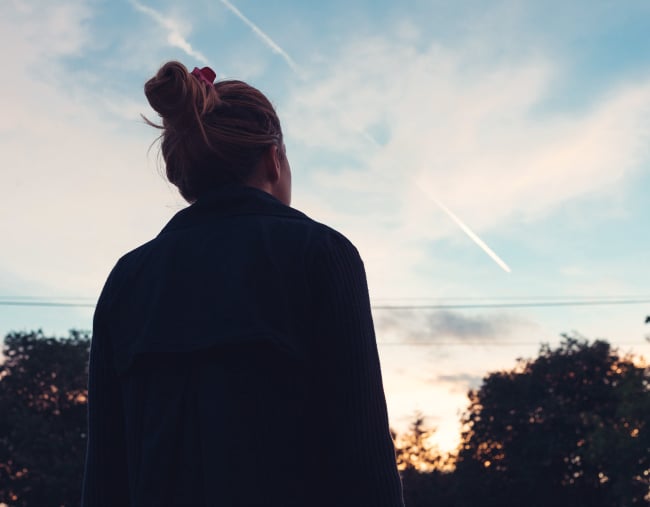 Content warning: This post contains details of miscarriage some readers may find triggering.
My name's not that important – I could be the woman shuffling change behind you at the coffee cart, or shrinking my body away from yours on the bus.
I'm any woman, and I'm having a miscarriage. Having. Nobody usually talks about miscarriage that way, do they?
So I'm writing the words I don't know how to speak, a story we don't usually tell. Things I wish someone had told me.
Monday, 3pm
It was baby pink, I've just told the GP, wincing at the clumsy choice of words. It was mucus, not even spotting, and I only saw it once when I went to the bathroom an hour ago. It doesn't hurt there, or there.
I'm not worried; just checking because I didn't have anything like this when I was pregnant with my son, now two. I'm feeling pretty good, actually. My husband and I even high fived this morning because, after being fogged in by first trimester exhaustion, today, in the middle of week nine, I've got my bounce back.
But sure, I've said, let's go have a scan to prove everything's fine. "Threatened miscarriage", reads the referral slip. But I'm running my hand over the still-small swell of my belly and smiling confidently at my husband.
It can't be that. It was just mucus. And it was only pink.
Monday, 4:30pm
I tasted grief – metal, cold, dry – in my mouth the instant the sonographer touched my arm.
My brain tried to hold back the ocean of meaning behind words that kept coming from her mouth – "There's been no growth beyond what we'd expect at six weeks." So Baby is just little?
"I'm sorry – I can't detect a heartbeat." Somebody else will? – but the rest of me, panic-breathing and shaking with tears, understood the gentle, warm touch of her hand immediately.
My baby is dead.
My husband was holding me and I know it was strong and true, but I couldn't feel a thing. When the sonographer slipped from the room, we both just sat there, concussed. I knew he wanted to say things like "It's okay" – but it's truly not, and so he didn't.
He just passed me the scrunched up underwear I'd taken off for the internal probe and later, in the car, when feeling came back to my hands, I noticed I hadn't put them back on.
I'm stunned by my shock. It's not like I don't know the statistic: one in four pregnancies ends in miscarriage. I've always thought I'd reason with the loss: early miscarriage probably means something was wrong and it's nature telling me my baby wouldn't have been born healthy.