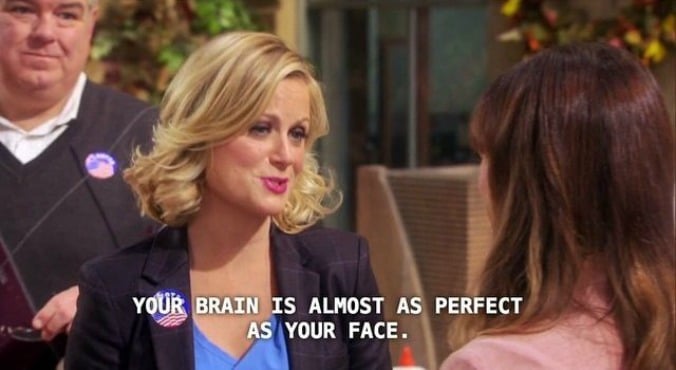 Image: Parks and Recreation's Leslie Knope gave the best odd compliments. (Image: NBC)
The art of giving a compliment is a mighty precarious one.
Some compliments are silver bullets, guaranteed to please. Like, "Has anyone ever told you your voice sounds like Beyonce's?" or, "You tell the best jokes", or simply, "Damn, you look amazing."
But the world is also full of people who decide to veer off the well-trod praise path in favour of something more creative, oddly specific, or downright weird — leaving their poor victims to wonder whether they should be flattered, annoyed, cut to the bone, deeply amused, or all of the above.
For instance, a few years ago a well-meaning acquaintance told me, "You know, you should go to Asia because they'd actually think your pale skin was really beautiful over there." Um… thanks?
Then there was the guy in a bar who told my friend she was the prettiest thing he'd seen "since a lamb roast." Beauty is in the eye of the beholder, I guess.
I'm not the only one who's been slapped in the face with a weird or awkward compliment — here are some crackers The Glow team members and Redditors were willing to share.
Doppelgangers
"I had a woman tell me I looked like a young John Travolta. I was an 18 year old girl." — moIIy
"A girl once told me, 'You're really handsome, like Willie Nelson.' At the time, I was 16, and Willie was 65. Um, thanks?" — captainmagictrousers
 Feeling hip
"After a night of unsuccessfully trying to pick me up, a guy finally told me at 3am, 'I know you're not gonna come home with me, but I need you to know: you have the biggest child-bearing hips I've ever seen and I find that very appealing.'"
"I was told I had a good, child-bearing body."
Watch: Mamamia staff share the biggest lie they've ever told. (Post continues after video.)