If the players can't hear you "sledge", does that make it okay to do it?
"It was a flippant, off-the-cuff remark and the players would not have heard it for all the booing and banter coming from the crowd." So said the bloke who was kicked out of WA's Domain Stadium during the West Coast-Sydney game on the weekend. The one that everyone has been talking about ever since. The one that has driven Adam Goodes off the field.
So if "they" can't hear you, should it be okay to holler 'Get back to the zoo!' during a game of footy?
How about "Get back to the zoo," at the field of play where one Adam Goodes is running around doing his best to get on with the game, even though every time he goes near the ball he's booed off it?
That's the same Adam Goodes who famously called out a 13-year-old girl for a racial slur. And who copped a King Kong sledge from Eddie Maguire. But hang on, that was just 'sledging' too. 'Banter'. Just a bit of fun, a bit 'off the cuff'.
That's the problem, right? It's all a bit of fun, and yet, it's not.
Ask around and you will hear that Goodes is being a bit of sook. He's a complainer. Here's a bloke running around chasing pigskin for a very comfortable living and when something doesn't go his way he starts tripping over his bottom lip and having a bit of a cry. He should be tougher, right?
For those people, the biggest crime he's committed is actually standing up for himself — for showing some emotion.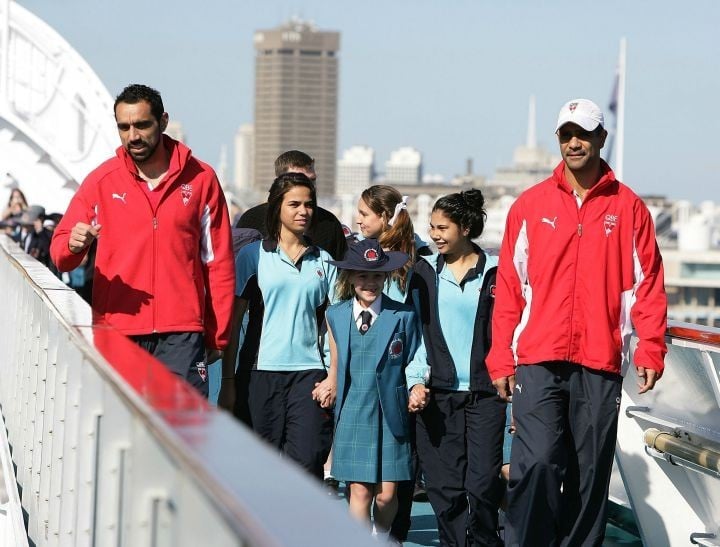 But here's a young man who knows what he believes and is prepared to fight for it. It is cultural. In this ridiculous, brotherhood mentality, he should pretend everything's okay because that's what you do.
"Jaysus, Adam. If you could just pretend it didn't hurt ya, mate. Everything'd be peachy, you know? But as long as you keep reacting, we're going to keep giving it to ya. Only, we're going to have a proper go at it now, because you're being all bloody sooky! And worse, ya scarin' the shit out of us with that spear chucking thing. Was that fair dinkum? Couldn't you just run in circles with one finger in the air like the other boys?!"