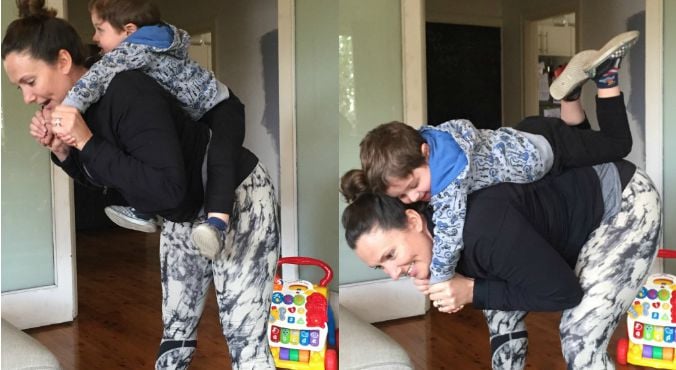 Image: Natalie Carter Talks Fitness.
Fitting in your exercise around kids, work and everyday life can be challenging, but it's not impossible. If you have the luxury of being able to have a kid-free workout, awesome — but if childcare is largely up to you, you'll have to find creative ways to stay fit and healthy.
What's that old saying? 'If Mama ain't happy, then nobody is happy.' I'm a firm believer in this when it comes to our body image, health and fitness level. So let's get cracking — here are 19 ways to incorporate your kids into your workout.
1. Playground workouts
You're probably aware of how much energy kids have, so why not join in with their park fun? Jump on the swing set, have a see-saw ride or take a few turns on the slide. All these movements are really functional, not to mention fun, and will help you burn extra calories.
2. Pram lunges
Next time you place your baby in their pram, get a leg workout in.
Tone and strengthen your legs by holding onto the pram bars, and perform walking lunges. The added resistance of the pram helps with strength and balance. To perform a lunge, make sure you keep your legs parallel and bend both knees to 90 degrees.
3. Russian twists with baby
A strong back requires strong abs. For this move, hold your baby close and under the armpits while you're seated with your legs bent and feet flat on the floor. Leaning back slightly, slowly and in a controlled move, twist your torso to one side and then the other. This Russian twist move is effective for shaping your waist and will keep bub occupied, even if it's just for a few minutes. Perform 20 twists in total and repeat three to four times.