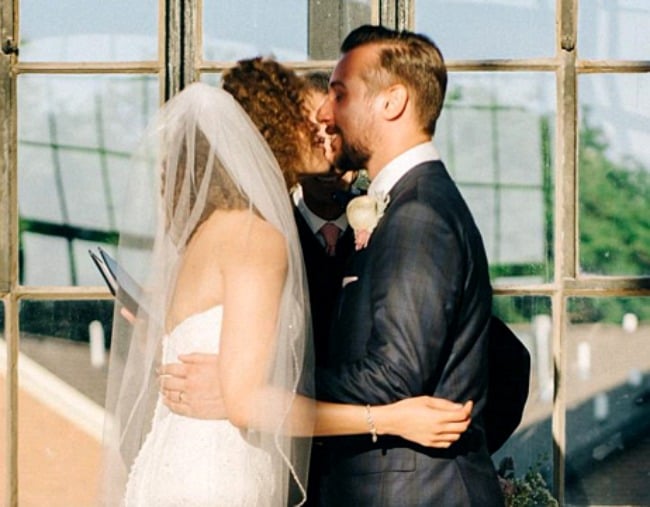 A married man has shared what is perhaps the most hilarious wedding photo ever on the third anniversary of his big day this week.
With incredible timing, photographer Sean Cook captured the moment Kevin Kennedy Ryan II and his bride leant in to kiss for the first time as a married couple – and the groom's sister fainted.
The photo shows the bridesmaid unconscious on the floor as the bride and groom, from Sheffield, England, are about to kiss.
Three years ago, I married the love of my life and my sister fell over pic.twitter.com/9jaSazmiir

— Kevin Kennedy Ryan II???? (@K_47) July 25, 2018
Within hours the photo had been liked and retweeted thousands of times, with some calling it the "best wedding photo ever".
Twitter users were also curious as to how exactly the photo came about.
Can we have an explanation? This is such a great photo!

— Rach (@raerhi) July 25, 2018
Kevin explained that his sister fainted "at the exact moment" the judge said "you may kiss the bride", and that within seconds the groom and other guests were rushing to help her – but the photo managed to capture the moment before they realised.
He also clarified that his sister fainted due to heat and was fine afterwards – though he implied she's yet to hear the end of it.
The marketing and design professional said the photograph wasn't framed, but after this reaction, he was planning to display it in his home proudly.
Planning a wedding? Mamamia's Hitched podcast is here to help.
Want to hear to more? Subscribe to Hitched here.
Love weddings or getting married and need to ask all the questions about venues, flowers, photographers, wedding dresses, EVERYTHING? Come join Mamamia's wedding planning podcast Facebook group Hitched.