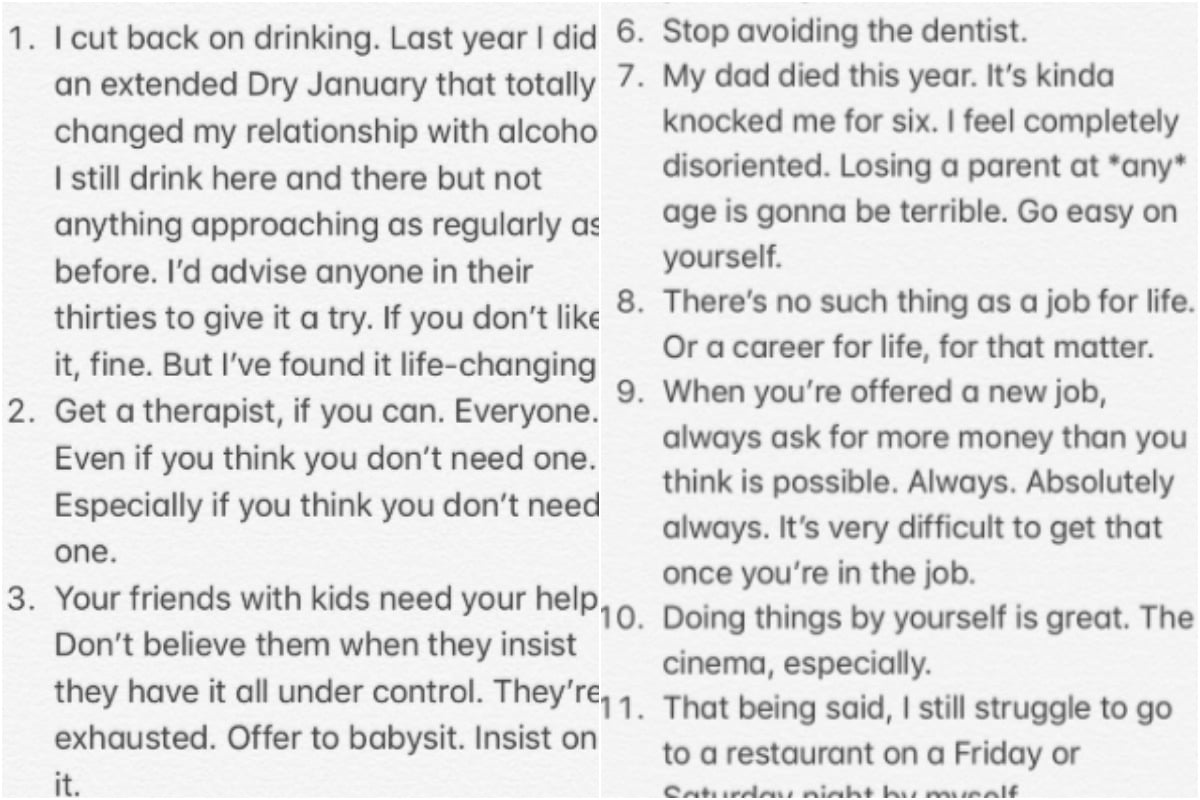 On Declan Cashin's 38th birthday he decided to share his 38 top learnings about the world.
Why should you care about some random dude's life musings?
Because they are SO bang on. We promise.
Declan is an average Brit who according to his Twitter profile was a BBC journalist and is now a 'curation lead' at Twitter (whatever that means).
But his summation on life after 38 years living on this earth is pretty… perfect.
I'm 38 today. So here are 38 things I thought I'd share for your enjoyment/mockery/trolling/contemplation. In no order of importance and not touching on everything in (my) life. But 38 things I've learned or learned to accept. pic.twitter.com/kP4QjoFT8C

— Declan Cashin (@Tweet_Dec) June 24, 2019
They are as follows:
1. I cut back on drinking. Last year I did an extended Dry January that totally changed my relationship with alcohol. I still drink here and there but not anything approaching as regularly as before. I'd advise anyone in their thirties to give it a try. If you don't like it, fine. But I've found it life changing.
2. Get a therapist if you can. Everyone. Even if you think you don't need one. Especially if you don't think you don't need one.
3. Your friends with kids need your help. Don't believe them when they insist they have it under control. They're exhausted. Offer to babysit, insist on it.
4. Getting over my aversion to audiobooks has been revelatory. You end up reading so much more and more regularly than you can imagine.
5. Go to the chiropractor. Even if you don't think you need to. Especially if you don't think you need to.
6. Stop avoiding the dentist.
7. My dad died this year. It's kinda knocked me for a six. I feel completely disorientated. Losing a parent at *any* age is gonna be terrible. Go easy on yourself.