There are some beauty treatments best left to the professionals, but getting DIY with others can save you a lot of time and money.
And if you're a frequent brow tinter, BOY do we have a hack for you.
A 16-year-old's at-home eyebrow tinting technique is going viral for its simple genius.
So I dyed my own brows today and boy was I scared but yolo am I right ladiessss pic.twitter.com/AQ4x1cXwlf

— Gabs (@Gabbi484) July 20, 2017
Texas teen Gabriella Robles first posted the trick on Twitter in July but it's recently resurfaced and people can't get enough. The tweet has now been retweeted over 15,000 times.
"So I dyed my own brows today and boy was I scared but yolo am I right ladiesss," she originally tweeted.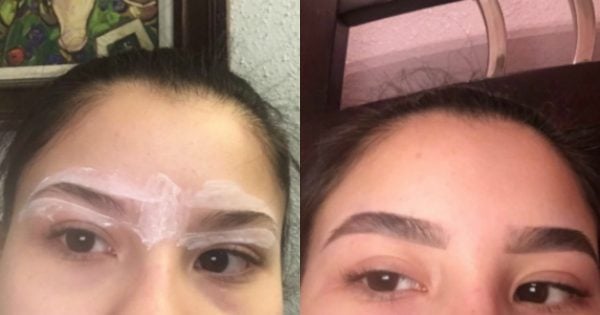 The process is simple - Robles cleaned her brows and the surrounding skin with a wipe, and then applied white oil paint around her brows to get the preferred shape to prevent the dye from staining her skin. Allure suggests using Vaseline, coconut oil or even a white eyeliner pencil instead of the oil paint because it's a) better for your skin, b) easier to get and c) cheaper.

Listen: The eyebrow kit that will change your life. Post continues after audio.

The 16-year-old then applied Just For Men Mustache and Beard Hair Colour, $12.79, onto her brows with an eyebrow brush, waited five minutes and then washed off the dye and paint with soap and water.
And if you don't believe the great results looking at her brows, just look at the people who have since tried her hack.
Girl god bless you this is lit af #YOLO pic.twitter.com/tDzxwytEPq

— Amara Shomali (@amara_shomali) July 25, 2017
So it worked and for y'all ladies out there wondering which colour, I used real black and wiped of the front 2 minutes earlier pic.twitter.com/mcvDe74pga

— v e d a ???? (@_vedarana) July 23, 2017
Now go forth and brow tint with confidence, friends.