Police are investigating the shooting of four people at a Sydney shopping centre yesterday, which brought down an knife-wielding man but left three innocent bystanders with gunshot wounds.
A video of the incident showing 23-year-old Jerry Sourian running at a female police officer, kitchen knife in hand, before being taken down by police at Hornsby Westfield has been widely circulated.
A second video, obtained by Nine News Sydney (featured above), shows the emotional moment the same police officer realises innocent shoppers were injured in the shoot out.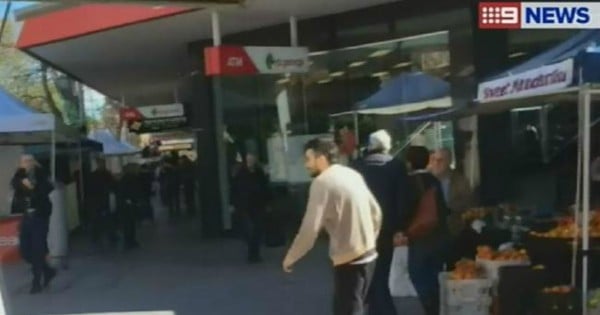 Jerry Sourian lunges at a police officer. Source: Nine News
In the smartphone footage, the officer can be heard apologising to bystanders after the shocking realisation some had been hit by police bullets.
Blood can be seen flowing from a woman's leg as the officer rushes over  to her.
"Oh sh*t, I'm so sorry. I'm so sorry," she can be heard saying.