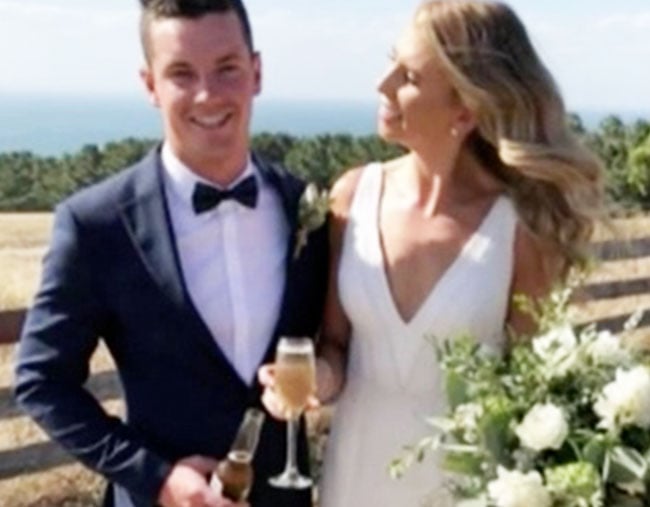 1. A Victorian couple had $10,000 stolen from their wishing well when an unknown man crashed their wedding ceremony.
When Victorian couple Breanna and Danny tied the knot in front of their closest friends and family on Saturday, they had no idea that one guest was not who he seemed.
According to 9 News, the pair, who married at the Jack Rabbit Vineyard on the Bellarine Peninsula, Victoria, didn't realise until their night was nearly over that a man pretending to be a wedding guest had stolen almost $10,000 from their wishing well.
"[The thief] was as cool as a cucumber, he walked in and even chatted to a couple of the guests," Jack Rabbit Vineyard venue owner Lyndsay Sharp told 9 News.
"It's just devastating… there are people out there trying to ruin what is supposed to be a happy, special day."
The man, dressed in a white shirt, suit pants and suspenders, arrived at the ceremony in a white ute. CCTV from the night shows him using a tool to break the lock on the wishing well, before he helps himself to a number of cards containing cash donated by the couple's guests.
Police believe the man may have been attending a wedding at a venue nearby.
"It was like a scene out of Wedding Crashers," Senior Constable Bradley Johnson told 9 News.
"It was pretty brazen… I think alcohol gave him the confidence to do it.
"We're pretty confident he went to the wrong reception, realised he was at the wrong one and thought 'while I'm here I might as well take some cash'."
But newlyweds Breanna and Danny haven't let the man's actions ruin their wedding: they are currently honeymooning in Fiji as police continue their investigations.
2. A woman has been charged with murder after her 8-year-old son was found dead.