1. Victoria Beckham reportedly made an urgent phone call to David to ask about the divorce.
There were the unrelenting rumours seizing the news cycle for well over 24 hour: Were Posh and Becks really done?
According to Twitter, yes. According to their management, no.
Now, a new story to surface in the Mail on Sunday reports Victoria Beckham made quite the urgent phone call to husband David as he worked in Miami as the rumour broke loose to ask, ah, was he divorcing her?
"Victoria was taken aback, but she found the whole thing very funny. They have had a sense of humour about this because it's so ridiculous," a source told the paper.
"They are stunned that so many people have believed it, and also stunned that it so quickly got around. They spoke about it and laughed a lot. They have absolutely no idea where or how it started. It's quite the mystery."
The paper also reported the couple would "show a united front" next month when they appear in a Vogue cover shoot together.
If nothing else, they're very convincing in their denial.
2. Chrissy Teigen shared a photo showing a bizarre side effect of breastfeeding.
Forever full of candour, Chrissy Teigen has shared a crazy side effect of breast feeding on Twitter.
"Please look at my veins going to my milky boobs," she said in a video posted on Twitter and to her Instagram Stories.
"What is this?"
Her boobs, shall we say, were… enlarged… with veins travelling prominently from her neck to them.
It turns out that if you are Chrissy Teigen and you tweet about your health concerns, a real life expert will help you out. Nursing advocacy organisation La Leche League replied to her query.
"That can be normal because the skin on your breasts is thinner due to milk-related growth. Do you feel engorged?"
If only all of our hysteria-inducing medical Google searches were met with such expertise.
3. Inside Kendall Jenner and Ben Simmons slightly unglamorous date.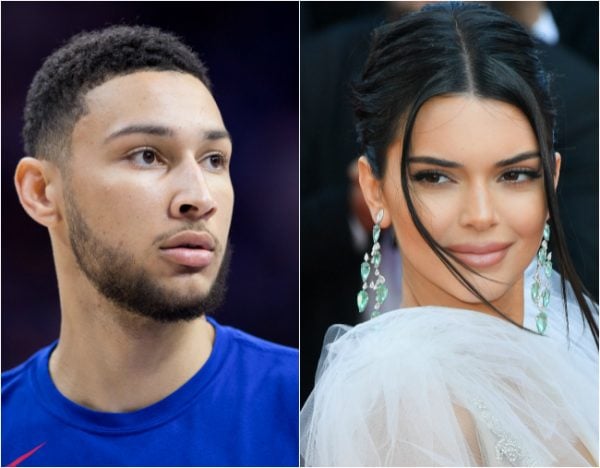 Welcome back to the rollercoaster that is Kendall Jenner's love life.
Days ago, photos emerged of Jenner kissing Anwar Hadid, the younger brother of supermodels Gigi and Bella. It came a further few days after international media was all over the report that Jenner was dating Aussie basketball star Ben Simmons. They were photographed leaving a nightclub, photographed going bike riding and photographed at a private party.
Now, it seems Jenner's back on the Simmons bandwagon, spotted shopping with him during the weekend.
"Kendall spent the day with Ben Simmons," a source told E! News. "They went shopping together at Barneys New York in Beverly Hills. They were inside for about an hour. Kendall helped Ben look in the men's department and she stood with him at the register as he made his purchase."
Exciting.
4. Who Dares Wins host Tania Zaetta pregnant with twins at 48.
Tania Zaetta's 'miracle' pregnancy at 48 https://t.co/kraBHRRQh7 pic.twitter.com/8oq2oqRdO8

— news.com.au (@newscomauHQ) June 11, 2018
Former Aussie TV presenter turned pilates instructor Tania Zaetta has announced she is expecting twins - her first children - with boyfriend Chris Rodgers.
Zaetta, 48, and Rogers, 35, have been together for five years and told Woman's Day they flew to Greece earlier this year to find an anonymous egg donor after finding out they could not conceive naturally.
"To be able to have an egg donor baby, that's the miracle to me," Tania told the magazine.
"It's very confronting when you hear the number and quality of your eggs is quite low at 45.
"But there were so many woman claiming miracle babies at 45, I just thought it would happen quite easily."
5. Kylie Jenner deleted all photos of her daughter from Instagram and fans have guessed why.
Some four months after giving birth to baby Stormi, fervent fan of publicity, Kylie Jenner has abruptly stopped sharing photos of her young daughter from Instagram, also deleting old photos in which she shared her face.
In a photo shared on the platform on Sunday, Jenner posed with her daughter, cropping the photo in such a way that only her tiny eye was visible to followers.
"I spy with my little eye…" she wrote.
After  few followers asked Jenner why she removed her daughter from the photo, Jenner wrote:
"Yeah I cut my baby out. I'm not sharing photos of my girl right now."
Click here for more on the story of Kylie Jenner's decision to stop sharing photos of Stormi.